Thousands rally against pension reform in Taipei
Thousands of pensioners yesterday marched on the Legislative Yuan in Taipei to protest proposed pension cuts as an extraordinary legislative session on reform began.
A steady downpour failed to deter hordes of retired public-school teachers, civil servants and military personnel from packing Jinan Road and portions of neighboring side streets for several hours, maintaining a steady staccato of whistle-blowing and chants for President Tsai Ing-wen (蔡英文) to step down.
"We have to let the government know that even the rain cannot extinguish our anger," said retired lieutenant general Wu Sz-huai (吳斯懷), one of the spokesmen for a small cohort of retired military personnel who have camped outside the Legislative Yuan for months.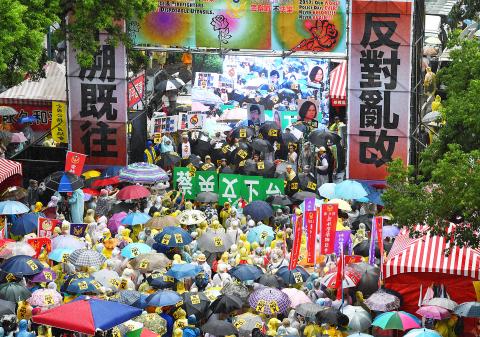 Retired public-school teachers, civil servants and military personnel yesterday protest in front of the Legislative Yuan in Taipei against pension reform efforts and demand that President Tsai Ing-wen step down.
Photo: CNA
Turnout estimates by protest leaders ranged from 15,000 to 30,000, with parts of Zhongxiao E Road and Zhongshan S Road blocked off as the protesters marched from the Legislative Yuan to the National Police Agency, the Executive Yuan and the Presidential Office Building, singing Martial Law-era tunes, such as Unity is Strength and the Central Police University anthem.
"The government has to keep its word, not apply reforms retroactively and not make a mess of reform," Keng Chi-wen (耿繼文), a former director of the National Police Agency Internal Affairs Office, said from a loudspeaker truck outside the agency building.
Protesters placed flowers on the barricades or fences, with Taiwan Police and Firefighters Alliance head Chen Ho-liang (陳合良) delivering a bouquet to the assembled police officers.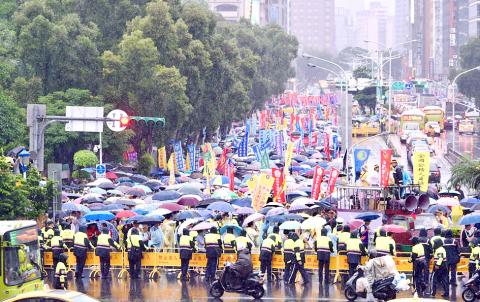 Retired public-school teachers, civil servants and military personnel yesterday gather in front of the Legislative Yuan in Taipei to protest against proposed pension cuts.
Photo: Peter Lo, Taipei Times
The crowd had rapidly thinned to several hundred after the protesters made their way to Ketagalan Boulevard and back to the Legislative Yuan.
The scope and depth of police defenses continued to break new records, with multiple layers of barricades outside the entrances and alleys around the Legislative Yuan, with neighboring Qingdao Road (青島路) completely blocked off.
Long lines of police officers shadowed protesters throughout their march, with special barricades erected along the Zhongxiao Road and Zhongshan Road intersection to prevent demonstrators from attempting to repeat a previous occupation of the legislative compound.
While officially timed to coincide with Police Day, yesterday's protest also came as the Legislative Yuan reopened deliberations on pension reform, beginning a new extraordinary session following a brief recess.
Numerous members of the Chinese Nationalist Party (KMT) addressed the demonstrators, with KMT caucus convener Sufin Siluko (廖國棟) promising to reject retroactive application of pension reform and to press for a single unitary package that includes a "humanitarian clause" exempting people over a certain age or with disabilities.
National Federation of Teachers' Unions director-general Huang Yao-nan (黃耀南) called for reforms for all affected groups to be passed together, as well as the simultaneous passage of legislation reforming pension fund management to boost returns.
While reforms aimed at both teachers and civil servants have already passed into cross-caucus talks, the committee review has yet to begin for reforms aimed at ordinary workers and the Executive Yuan has yet to publish an official version of the reforms for military personnel.
Comments will be moderated. Keep comments relevant to the article. Remarks containing abusive and obscene language, personal attacks of any kind or promotion will be removed and the user banned. Final decision will be at the discretion of the Taipei Times.