Flood budget to remain as it is, despite deluge
CLIMATE CONCERN: Lin Chuan said the government needs to put more effort into developing water infrastructure amid extreme events from climate change
There are no plans to increase the budget for water infrastructure as part of the Forward-looking Infrastructure Development Program, despite the Cabinet yesterday reaffirming the eight-year project just days after torrential rain brought flash flooding and landslides across the nation.
The government plans to allocate NT$250.8 billion (US$8.33 billion) to develop water infrastructure, including NT$72 billion for flood prevention, as part of the project's NT$882.4 billion overall budget, but there have been calls to increase funding for water infrastructure following the torrential rain late last week.
Executive Yuan spokesman Hsu Kuo-yung (徐國勇) said there was no plan to adjust the budget proposals.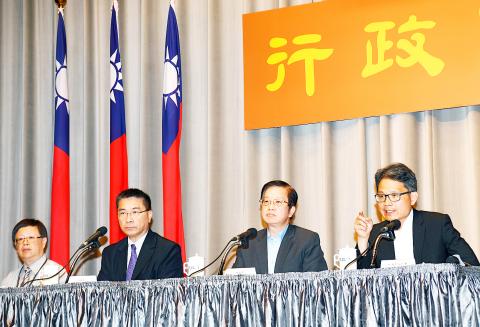 Water Resources Agency Director-General Lai Chien-hsin, right, speaks at news conference at the Executive Yuan in Taipei yesterday.
Photo: CNA
"The government's capacity to execute [the water infrastructure program] is the same as the budgets proposed for the Forward-looking Infrastructure Development Program," Hsu said.
"A rolling review of the project will be carried out, but there will be no budget adjustment," he said.
Increased government effort is needed to carry out the water infrastructure project, which is urgent in the face of an increasingly extreme climate, Premier Lin Chuan (林全) said.
"The flooding was caused by extreme rainfall in a short amount of time that exceeded the flood discharge capacity of the system. The disaster clearly shows the unavoidable threat of climate change," Lin said.
Although major progress has been made in flood prevention, flood control facilities are still lacking in 25 percent of the areas susceptible to inundation, Lin said.
There is about 1,150km2 nationwide that is susceptible to flooding, Water Resources Agency Director-General Lai Chien-hsin (賴建信) said.
Improvements were made on 538km2 prior to 2013, while an ongoing river management program is to increase the flood resilience of 320km2 by 2019, Lai said.
The Forward-looking Infrastructure Development Program is to improve flood management for 200km2 by 2024, leaving just 92km2 that is prone to flooding, but does not have control measures in place, Lai said.
Ninety percent of the areas that were flooded after the rain last week failed to discharge floodwater fast enough, and NT$24 billion has been planned to upgrade sewer systems to increase urban flood resilience, Lai said.
Past flood control measures have paid off, as the maximum 24-hour rainfall from the front last week was 381mm, causing 1,206 hectares to be flooded, but precipitation of similar intensity caused 7,890 hectares to be inundated during Tropical Storm Kong-Rey in 2013, and 11,448 hectares to be flooded during Typhoon Kalmaegi in 2008, he said.
Comments will be moderated. Keep comments relevant to the article. Remarks containing abusive and obscene language, personal attacks of any kind or promotion will be removed and the user banned. Final decision will be at the discretion of the Taipei Times.