Afghan President Ghani gives Taliban ultimatum
Afghan President Ashraf Ghani yesterday issued an ultimatum to the Taliban, warning them to embrace peace or "face consequences" after announcing that the death toll from last week's devastating truck bombing had passed 150.
Ghani has come under mounting criticism over the bombing, the deadliest in Kabul since 2001, with protests and deadly street clashes roiling the Afghan capital as people incensed by spiraling insecurity call for his government's resignation.
The president made a strong plea for peace at an international conference on Afghanistan attended by about two dozen countries, which was held under tight security as armored vehicles patrolled the streets and fighter jets roared over the capital.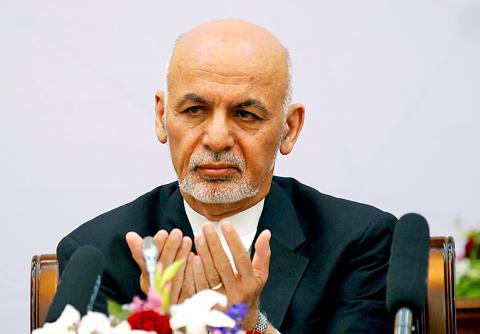 Afghan President Ashraf Ghani prays during a peace and security cooperation conference in Kabul yesterday.
Photo: Reuters
"We are offering a chance for peace, but this is not an open-ended offer," Ghani said. "Time is running out ... this is the last chance: take it or face consequences."
The conference, labeled the "Kabul Process," aims to build international support for ways to restore security in Afghanistan.
Ghani offered the Taliban the opportunity to open a representative office, adding that he was flexible about the location of future talks.
The Taliban responded to the conference by firing a rocket at what they claimed was NATO's headquarters.
It landed inside the Indian ambassador's residence, but no one was hurt.
A suspected bomb outside a mosque in Herat also killed at least seven people and wounded 15, police said.
Officials in Herat believe explosives were hidden in a motorcycle left in a parking area outside the Jama Masjid, a large mosque dating from the 12th century.
Kabul has been on edge since the massive truck bomb on Wednesday last week ripped through the city's highly fortified diplomatic quarter, home to the presidential palace and a host of foreign embassies.
The death toll has jumped to more than 150 people, while more than 300 wounded were brought to hospitals, many with burns and amputations, Ghani said.
"We are a nation of survivors. Terrorists can shed our blood but they cannot break our will," he said.
Officials had previously put the number of dead at 90.
Ghani did not explain the dramatic jump, but Afghan authorities are well known for initially playing down casualty figures.
The attacks have worsened tensions between ethnic groups and raised the prospect of a political crisis.
The government has accused the Taliban-allied Haqqani Network of carrying out Wednesday's attack, and said the funeral was targeted by bombers trained at a religious seminary in Pakistan.
Comments will be moderated. Keep comments relevant to the article. Remarks containing abusive and obscene language, personal attacks of any kind or promotion will be removed and the user banned. Final decision will be at the discretion of the Taipei Times.