Kuwaiti ruler tries to mediate in Qatar crisis
Kuwait is trying to mediate a Gulf crisis between Qatar and its Arab neighbors, which have severed ties with the energy-rich travel hub and moved to isolate it from the outside world, Qatar's foreign minister said yesterday.
The biggest diplomatic crisis in the Persian Gulf since the 1991 US-led war against Iraq pits several nations against Qatar, which is home to about 10,000 US troops and a major US military base.
Airlines suspended flights and residents nervous about the peninsula's lone land border closing cleaned out grocery store shelves.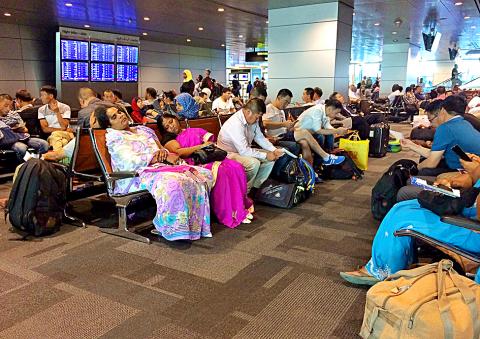 Passengers whose flights were canceled wait in Hamad International Airport in Doha, Qatar, yesterday.
Photo: AP
In an interview with Doha-based satellite news network al-Jazeera, Qatari Minister of Foreign Affairs Sheikh Mohammed bin Abdulrahman Al Thani said Kuwait's ruler had asked Qatar's emir to hold off on giving a speech about the crisis late on Monday night.
Sheikh Tamim bin Hamad Al Thani "received a call from the emir of Kuwait asking him to postpone it in order to give time to solve the crisis," Sheikh Mohammed said.
Still, the minister struck a defiant tone, rejecting those "trying to impose their will on Qatar or intervene in its internal affairs."
The state-run Kuwait News Agency reported that Kuwaiti ruler Sheikh Sabah al-Ahmad Al Sabah spoke with Qatar's emir on Monday evening and urged him to give a chance to efforts that could ease tensions.
The call came after a senior Saudi royal arrived in Kuwait with a message from the Saudi king.
Al Sabah was scheduled to travel to Saudi Arabia yesterday to meet with King Salman bin Abdulaziz al Saud.
In a sign of the potential consequences for the Qatari economy, a number of banks in the region began stepping back from business dealings with Qatar.
Saudi Arabia's central bank advised banks in the kingdom not to trade with Qatari banks in Qatari riyals, sources said
Meanwhile, the Philippines announced it would temporarily suspend the deployment of migrant workers to Qatar.
Philippine Secretary of Labor and Employment Silvestre Bello said the ban took effect yesterday, but there is no plan yet to repatriate the more than 200,000 Filipino workers in Qatar.
Bahrain, Egypt, Saudi Arabia and the United Arab Emirates on Monday said they were cutting diplomatic ties with Qatar.
Yemen's internationally backed government also cut relations with Qatar, as did the Maldives and one of conflict-ridden Libya's competing governments.
The move came just two weeks after US President Donald Trump visited Saudi Arabia and vowed to improve ties with Riyadh and Cairo to combat terrorism.
US Secretary of State Rex Tillerson said the move was rooted in longstanding differences and urged the parties to resolve them.
Flight tracker Web sites showed Qatar Airways flights taking a circuitous route mostly over Iran to avoid their neighbors.
Al-Jazeera reported trucks carrying food appeared to be stranded on the Saudi side of the border.
Comments will be moderated. Keep comments relevant to the article. Remarks containing abusive and obscene language, personal attacks of any kind or promotion will be removed and the user banned. Final decision will be at the discretion of the Taipei Times.