US lawmaker supports detained activist
SOVEREIGN: The US Congress has a list of human rights cases that Trump is to be urged to present to Xi during a summit in China, which is expected to be held later this year
Detained human rights advocate Lee Ming-che (李明哲) might be put on a human rights watch list to be presented during a meeting between US President Donald Trump and Chinese President Xi Jinping (習近平) later this year, following efforts by Lee's wife to seek assistance at a US congressional hearing.
Weeks after her husband's detention Lee Ching-yu (李凈瑜) testified at a US House of Representatives committee hearing about his detention on Thursday last week.
"Changes were made to the past authoritarian regime in Taiwan because of international assistance," said Lee Ching-yu, adding that international involvement in her husband's case could pressure China into releasing him.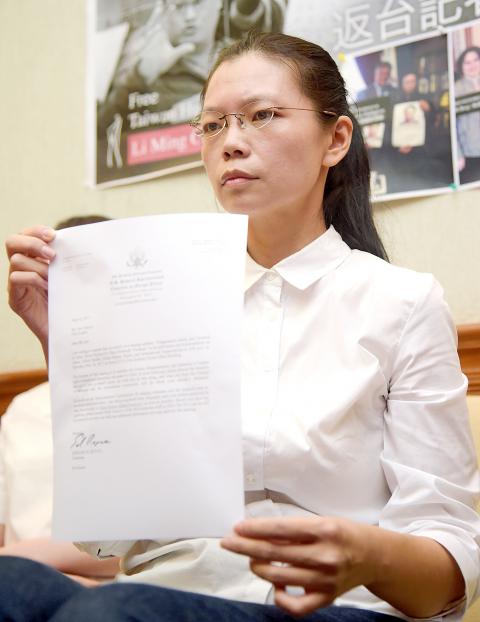 Lee Ching-yu, the wife of human rights advocate Lee Ming-che, who is being detained in China, holds a document at a news conference in Taipei yesterday after returning from a trip to the US.
Photo: Huang Yao-cheng, Taipei Times
"The US is only the first stop," she said yesterday at a news conference in Taipei.
Lee Ming-che was detained after entering Zhuhai, China, from Macau on March 19. He used to work for the Democratic Progressive Party and is a staff member at Wenshan Community College in Taipei, as well as a volunteer at the non-governmental organization Covenant Watch.
US Representative Chris Smith has launched a petition about Lee Ming-che's case and a signed request for his release by bipartisan members of the US Congress, might be delivered to Xi, said Taiwan Association for China Human Rights chairman Yang Hsien-hung (楊憲宏), who accompanied Lee Ching-yu to Washington.
TheUS Congress could put forward a list of human rights cases, which Trump would be urged to present to Xi during a summit in China, Yang said.
Lee Ming-che's name would be on the list, Yang said.
Almost all human rights lawyers and activists arrested by Beijing in recent years have been tortured and drugged, and Lee Ming-che might be subject to the same inhumane treatment, he added.
Lee Ching-yu said the US had promised to ensure her personal safety because any harassment or threats made against her and others who testified at the hearing would be considered "a violation of US sovereignty," she said, citing US Department of State Bureau of East Asian and Pacific Affairs Director Laura Stone.
The US' commitment to its sovereignty has highlighted Taiwan's neglect of its sovereignty issue, Lee Ching-yu said, adding that the Straits Exchange Foundation at first refused to accept a report of her husband's disappearance, asking her to report the case to Chinese authorities.
National Security Bureau Deputy Director Chou Mei-wu (周美伍) said in a legislative meeting in Taipei that "China could not arrest the wrong person," which led Lee Ching-yu to ask if the government believed Lee Ming-che deserved his detention.
"Most Taiwanese do not understand human rights or even want to understand it, but how can we forget that [fighting for human rights] is precisely what empowered Taiwan to end the White Terror era and topple authoritarian rule?" she said.
Her attendance at the hearing in Washington was sanctioned by the Taiwan Relations Act (TRA), which stipulates that "the preservation and enhancement of the human rights of all the people on Taiwan are hereby reaffirmed as objectives of the US."
The TRA has rarely been cited for human rights issues, and the government in Taipei should urge the US to honor its commitment to Taiwan under the act to secure participation at the World Health Assembly, she added.
Comments will be moderated. Keep comments relevant to the article. Remarks containing abusive and obscene language, personal attacks of any kind or promotion will be removed and the user banned. Final decision will be at the discretion of the Taipei Times.