Atayal student struggles to board over 'English' name
Uni Air (立榮航空) yesterday apologized for refusing to allow a student to check in because he used his Aboriginal name to book his ticket.
Nagao Kunaw, also known by his Mandarin name, Chen Ruei-jhe (陳睿哲), is an Atayal from Nantou County studying at National Taiwan University's Graduate Institute of Journalism.
In "an open letter to Uni Air" published online on Monday, Nagao Kunaw said that he was not able to check in for a Uni Air flight to Taipei at Taitung Airport on Sunday using the airline's self-service kiosk. He turned to the airline's ground crew for help.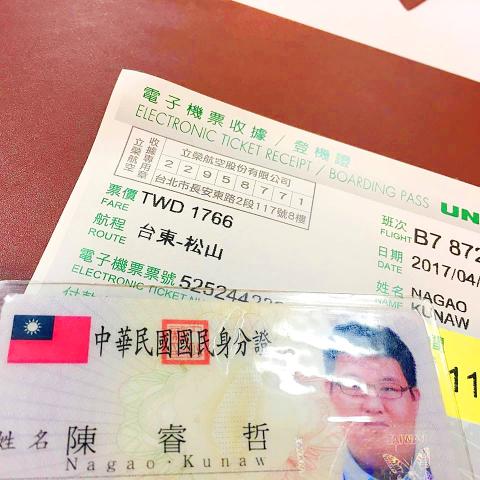 A national identity card and Uni Air boarding pass belonging to National Taiwan University graduate student Nagao Kunaw, whose Mandarin name is Chen Jui-che, are shown in a photo taken by Nagao Kunaw.
Photo courtesy of Nagao Kunaw
Nagao Kunaw said that when the ground crew could not find his booking record, he was accused of not booking his ticket in advance.
When he showed them that he had booked the ticket under his Aboriginal name, the ground crew told him that he needed to show identification with his "English" name if he wanted to book the ticket using his "English" name.
Nagao Kunaw said that he explained to the Uni Air ground crew that his national identification card lists both his Aboriginal name and Mandarin name, and asked if a national identification card is not a valid document.
Although he was eventually allowed to board the flight, he said that the Uni Air ground crew insisted that he book his ticket using his Mandarin name in the future, which he said was very humiliating.
"Can't Aborigines use their Aboriginal names when they book flight tickets?" he asked.
Nagao Kunaw later said on Facebook that Uni Air's director at Taitung Airport had called him yesterday morning to apologize, adding that his attitude was very sincere.
He also thanked all the people who were concerned about the matter.
"For many young Aborigines it is not always easy to use our Aboriginal name. We can only say our Aboriginal name out loud because of your support and concern," Nagao Kunaw wrote.
Nagao Kunaw also suggested that Uni Air update its software at the self-service kiosks, so that Aborigines can book tickets using their Aboriginal names.
The airline should educate its staff about serving Aboriginal passengers, particularly staff working at the airports in Taipei, Hualien and Taitung, he said.
Uni Air said that its ground crew failed to search the passenger's booking record under his Aboriginal name, which explained why the record was not initially found.
The check-in procedure was completed after the ground crew used the national identification card number to find the booking record, the airline said.
Comments will be moderated. Keep comments relevant to the article. Remarks containing abusive and obscene language, personal attacks of any kind or promotion will be removed and the user banned. Final decision will be at the discretion of the Taipei Times.