Taipei recalls 19 products over expired ingredients
The Taipei Department of Health late on Friday ordered the immediate recall of 19 types of products made of expired margarine and clarified butter.
The department said it received a report from the Taoyuan Department of Public Health on Friday evening recalling 19 Far East Oil Mills Co (遠東油脂) products, including margarine, butter oil substitute (pastry margarine), shortening and puff pastry.
Investigators went to the company's direct sales shop in Taipei on Friday, but it was closed.
A Taipei Department of Health inspector examines Far East Oil Mills products at a store yesterday.
Photo: Taipei Department of Health
They said they left a notice on the shop's door asking the owner to report product distribution.
The Taoyuan health department said investigators on Wednesday last week took about 43 tonnes of products from Far East Oil Mills' factory for examination and ordered it to cease all operations.
However, as the company could not clarify which product batches contained contaminated ingredients, the department ordered an extended recall for all products with expiry dates of between Sept. 30 and Wednesday.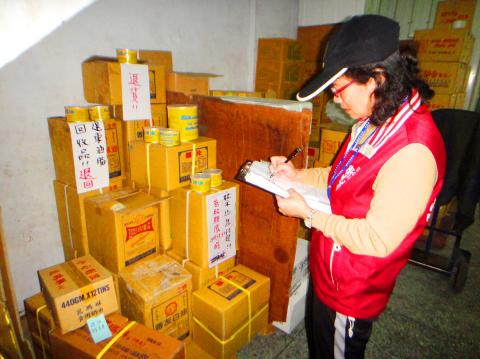 A Hualien County Government Health Bureau investigator examines Far East Oil Mills Co margarine products that were removed from shop shelves after the company was found to have illegally recycled expired margarine products into 19 types of edible oil products.
Photo provided by the Hualien County Government Health Bureau
Far East Oil Mills' products are widely used in the food industry, the Taipei health department said, adding that it informed 20 chain stores, the Taipei Bakery Association and a commercial meal box association to immediately stop using the firm's products.
It also asked the Taipei Department of Education and the Market Administration Office to inform schools and markets in the city.
The Taipei health department said it has finished an investigation of 688 shops and vendors, resulting in the recall of 208.89kg of eight products.
All of the firm's products sold at chain stores in Taipei have been removed from shelves, it said, adding that the total amount of product is still being calculated.
Food companies should stop using the products and remove them from shelves within 48 hours after receiving notification, it said, adding that failure to do so could result in a fine of between NT$30,000 and NT$100,000 (US$966.62 and US$3,220).
Far East Oil Mills could be fined between NT$60,000 and NT$200 million if found guilty of recycling, reproducing or reselling expired food products, it added.
Comments will be moderated. Keep comments relevant to the article. Remarks containing abusive and obscene language, personal attacks of any kind or promotion will be removed and the user banned. Final decision will be at the discretion of the Taipei Times.