Malaysia expels N Korean ambassador over airport murder
Malaysia says its expulsion of North Korea's ambassador was intended to warn Pyongyang that it cannot manipulate the investigation into the killing of the North Korean leader's half-brother.
The government on Saturday gave North Korean Ambassador Kang Chol 48 hours to leave the country after he refused to apologize for his strong accusations over Malaysia's handling of the investigation into the Feb. 13 killing of Kim Jong-nam at Kuala Lumpur International Airport.
Malaysian Deputy Prime Minister Ahmad Zahid Hamidi yesterday was quoted by national news agency Bernama as saying that Kang's expulsion was a "clear message to the North Korean government that we are serious about solving this problem and we do not want [the investigation] to be manipulated."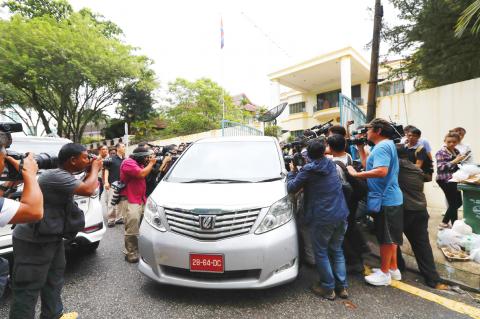 Journalists surround a North Korean diplomatic vehicle as it leaves the North Korean embassy in Kuala Lumpur, Malaysia, yesterday.
Photo: AP
"North Korea must learn to respect other countries," he said.
The government said Kim was poisoned on Feb. 13 with deadly nerve agent VX.
North Korea has not acknowledged the dead man's identity, but has repeatedly disparaged the murder investigation, accusing Malaysia of conniving with its enemies.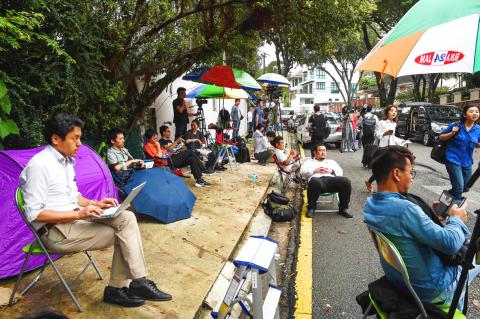 Members of the media yesterday wait outside the North Korean embassy in Kuala Lumpur after the Malaysian government announced late on Saturday that it had given the North's ambassador 48 hours to leave the country.
Photo: AFP
"The ambassador has been declared persona non grata" after Malaysia demanded, but did not receive an apology for Pyongyang's attacks on the investigation, Malaysian Minister of Foreign Affairs Anifah Haji Aman said in a statement released late on Saturday. "Malaysia will react strongly against any insults made against it or any attempt to tarnish its reputation."
Kang had failed to present himself at the ministry when summoned and "is expected to leave Malaysia within 48 hours," the statement said.
The media yesterday besieged Pyongyang's embassy, from where Kang is expected to depart before the expulsion deadline expires at 6pm today.
The foreign ministry said the expulsion was "part of the process by the Malaysian government to review its relations" with North Korea, which before Kim's assassination were unusually cosy.
The diplomatic spat erupted last month when Malaysian police rejected North Korean diplomats' demands that they hand over Kim's body.
Kang then claimed the investigation was politically motivated and said Kuala Lumpur was conspiring with "hostile forces."
Malaysia issued a Feb. 28 deadline for an apology, but "no such apology has been made, neither has there been any indication that one is forthcoming," officials said.
Two women — one Vietnamese and one Indonesian — have been charged with murdering Kim. Police said he suffered a seizure and died less than 20 minutes later.
Additional reporting by AFP
Comments will be moderated. Keep comments relevant to the article. Remarks containing abusive and obscene language, personal attacks of any kind or promotion will be removed and the user banned. Final decision will be at the discretion of the Taipei Times.