Police identify suspect in model's death in Taipei
Police yesterday said that they had solved Wednesday's killing of a 22-year-old model surnamed Chen (陳), whose body was found at a basement parking lot in Taipei's Nangang District (南港).
The suspect, identified as 24-year-old Cheng Yu (程宇), is reportedly the boyfriend of a friend of Chen's, and has a record of four previous convictions for sexual assault, police said.
Cheng allegedly confessed during questioning to sexually abusing and strangling Chen, who modeled for online commercials, police said.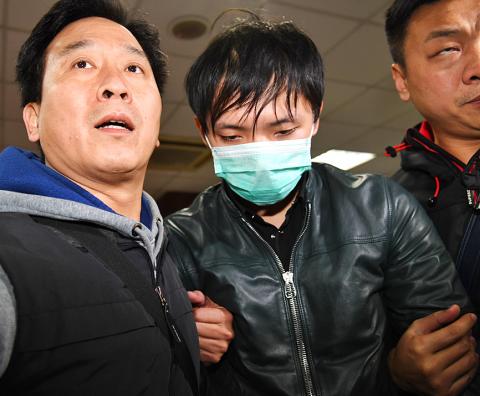 Cheng Yu, center, a suspect in a murder case in Taipei, is being detained by police in Taichung yesterday.
Photo: CNA
Authorities yesterday conducted an autopsy on Chen's body to determine the cause of death.
Investigators said they believe Cheng and his 22-year-old girlfriend, Liang Ssu-hui (梁思惠), were involved in Chen's death.
They said Cheng had seen photographs of Liang and Chen at parties and on trips and reportedly offered Chen NT$5,000 to take part in a photo shoot on Wednesday.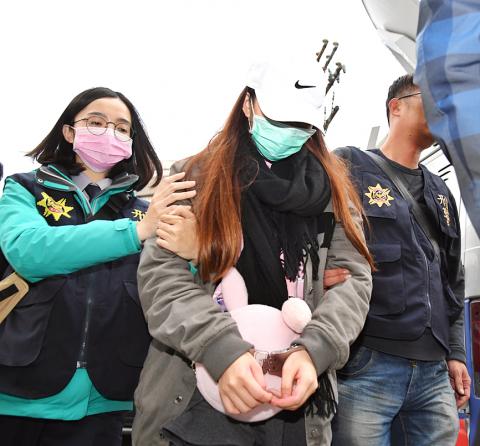 A woman surnamed Liang, center, the girlfriend of a male suspect in a murder case in Taipei, is being detained by police in Taichung yesterday.
Photo: CNA
When Chen resisted his sexual advances, Cheng allegedly strangled her with his hands, then stole her purse and mobile phone, police said.
Liang is alleged to have known that Cheng planned to have sex with Chen and had abetted him in carrying out the crime, police said.
Video footage and other evidence reportedly show that Cheng gave Chen's watch and cellphone to Liang, and that the couple took the MRT to the Taipei 101 mall and Kuanghua Market (光華商場) to shop before taking a Taiwan High Speed Rail train to Taichung, where they checked into a hotel using Chen's credit card.
A 22-year-old freelance model, surnamed Chen, the victim in a Taipei murder case, is pictured in an undated photograph.
Photo: Copy by Chen Yi-yun, Taipei Times
Chen's family members tried calling her repeatedly as they grew concerned about her whereabouts, and Liang is alleged to have responded with text messages telling them that Chen was away from home and busy.
Investigators said Cheng's previous convictions included incidents where he had posed on the Internet as a rich businessman in the jewelry business to invite models to take part in photo shoots before assaulting them.
He reportedly used a fake credit card that he had bought from an online auction site to take the women out for dinner to gain their trust.
Additional reporting by CNA
Comments will be moderated. Keep comments relevant to the article. Remarks containing abusive and obscene language, personal attacks of any kind or promotion will be removed and the user banned. Final decision will be at the discretion of the Taipei Times.