'Walk for Life' protesters march in Philippines
'NO KILLING': Archbishop Socrates Villegas said that 'execution is murder' and added that 'we cannot teach that killing is wrong by killing those who kill'
Thousands of people yesterday joined a march with Catholic Church leaders in Manila in one of the largest shows of opposition against Philippine President Rodrigo Duterte's crackdown on illegal drugs and attempts to reinstate capital punishment.
Police estimated that at least 10,000 people joined the "Walk for Life" march and rally starting at dawn at Rizal Park, carrying placards that read "Choose life" and "No to death penalty."
Organizers gave a larger estimate of the crowd.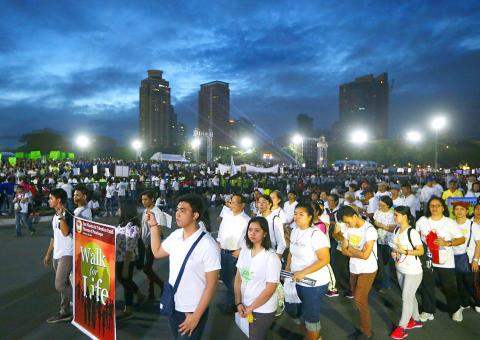 People yesterday march in Manila's Rizal Park to protest a crackdown on drug users and calls to reinstate the death penalty.
Photo: AP
It was the latest sign of the Roman Catholic Church's increasing activism against a government crackdown that has left thousands of drug suspects dead and efforts by pro-Duterte legislators to reinstate the death penalty as early as next month.
Catholic bishops expressed concern over drug killings in a recent statement read in churches across the nation.
Archbishop Socrates Villegas said that no civilized nation should allow such actions to continue unabated.
"They ought to be judged by the court of law and never by the extrajudicial means," Villegas said in a statement.
Duterte, a longtime city mayor before being elected to the presidency in May last year on an anti-crime platform, has asked the Philippine Congress to revive the death penalty, preferably by public hanging.
That, along with his pro-birth control stance and threats to kill criminals, has put him on a collision course with the church in Asia's largest Catholic nation.
"Execution is murder," Villegas said. "We cannot teach that killing is wrong by killing those who kill."
Duterte has been antagonistic to the church, once calling it "the most hypocritical institution" and lashing out at some local bishops he accused of corruption and sexual abuse.
Senator Leila de Lima, one of the most vocal critics of Duterte's anti-drug campaign, joined the rally.
State prosecutors charged her in court on Friday for allegedly receiving bribes from detained drug lords, an allegation that she denies.
The prosecutors alleged that De Lima, while she was secretary of justice in the administration of former Philippine president Benigno Aquino III, received huge bribes from detained drug lords to finance her senatorial campaign last year.
The bribes were allegedly solicited by her former driver and lover, who was also charged.
If judges, who would handle the three separate complaints, assess that there is strong evidence against her, they might decide to issue a warrant for her arrest.
De Lima told reporters at the rally that the criminal charges were meant to intimidate her, but said Duterte's administration would fail.
"I will continue to fight. They cannot silence me," she said.
Comments will be moderated. Keep comments relevant to the article. Remarks containing abusive and obscene language, personal attacks of any kind or promotion will be removed and the user banned. Final decision will be at the discretion of the Taipei Times.