Review calls for death penalty to be thrown out
OVERCROWDING: Former UN official Manfred Nowak said that the government should build new jails and reduce inmate numbers by liberalizing harsh drug laws
International human rights experts yesterday presented a report recommending the abolition of capital punishment, work to relieve prison overcrowding, liberalizing policy over drug users and decriminalizing adultery.
The report listed 78 observations or recommendations for government consideration, following four days of meetings in Taipei this week regarding the International Covenant on Civil and Political Rights (ICCPR) and the International Covenant on Economic, Social and Cultural Rights (ICESCR).
The review was the second of its kind since the covenants were adopted by Taiwan in 2009.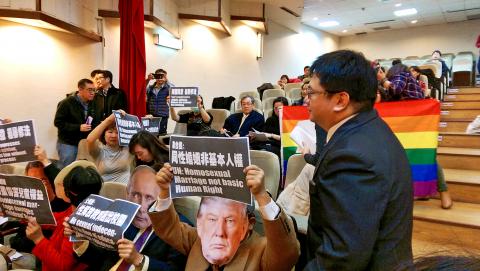 Protesters wearing masks featuring US President Donald Trump and Russian President Vladimir Putin hold signs opposing homosexuality at a meeting at the Ministry of Justice building in Taipei yesterday.
Photo: Hsiang Cheng-chen, Taipei Times
The ICCPR panel was chaired by Manfred Nowak of Austria, former UN special rapporteur on torture, while the ICESCR panel was chaired by Eibe Riedel of Germany, former vice chairman of the UN Committee on Economic, Social and Cultural Rights.
Nowak urged President Tsai Ing-wen (蔡英文) to take decisive steps by introducing a moratorium on executions, with the aim of full abolition of the death penalty in the near future.
"The committee is also concerned about overcrowding of detainees in the prison system, which leads to a variety of human rights problems, such as poor hygiene, a lack of privacy and increased violence," Nowak said in presenting the report at the Ministry of Justice building yesterday.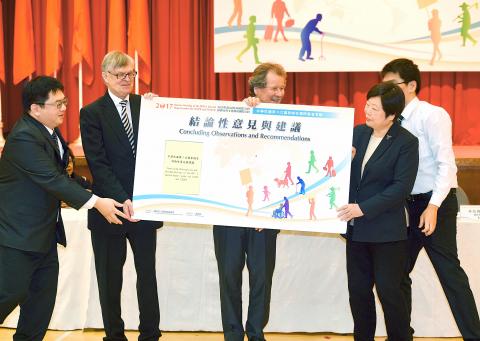 Minister Without Portfolio Lin Mei-chu, right, UN review committee members Manfred Nowak, center, and Eibe Riedel, second left, hold up a copy of findings at a news conference in Taipei yesterday.
Photo: Peter Lo, Taipei Times
"We recommend the government constructs new prison facilities and reduces the number of detainees by liberalizing some of the harsh policies regarding drug users," he said.
The committee recommended legislative changes to reduce the length of criminal proceedings and to provide adequate reparation in cases of excessive detention, Nowak said.
The government should also take steps to decriminalize adultery, as it has a disproportionately negative affect on women and is a violation of the right to privacy, Nowak said.
Nowak said that "Taiwan can show it could be a pioneer in the Asia-Pacific region to combat discrimination on the basis of sexual orientation and gender identity."
The ICESCR report said that while the government had taken steps to recognize the status of Pingpu as Aborigines, it is concerned that the classification of Aborigines into three categories — "mountain people," "plains people" and "Pingpu" — is a legacy of the Japanese colonial period and does not correspond with the present situation of 16 official Aboriginal groups.
"The committee recommends that the government apply the classification of indigenous peoples as identified by themselves, and guarantees them full and equal participation and representation," it said, adding that the government should "develop effective mechanisms to seek free, prior and informed consent of indigenous peoples on development programs that affect them."
Miloon Kothari of India, a former UN special rapporteur on housing, said that government policies must move away from an emphasis on economic development and favoring businesses to the detriment of marginalized groups, poor people and Aborigines, as they have led to land expropriation.
Minister Without Portfolio Lin Mei-chu (林美珠), who co-chaired yesterday's event, said that capital punishment remains in force because most Taiwanese support it and there has been no decline in the number of executions in recent years.
Groups opposing and affirming same-sex marriage staged protests at the event.
Comments will be moderated. Keep comments relevant to the article. Remarks containing abusive and obscene language, personal attacks of any kind or promotion will be removed and the user banned. Final decision will be at the discretion of the Taipei Times.