Far Eastern Air interested in restructuring TransAsia
DRAGGED OUT The regional airline said it did not offer TransAsia a merger deal because it holds an AOC that would have complicated and drawn out negotiations
Regional Taiwanese airline Far Eastern Air Transport Corp (遠東航空) yesterday confirmed its interest in taking over and restructuring TransAsia Airways Corp (復興航空), which abruptly announced its closure last month due to financial problems.
Far Eastern has been in negotiations with TransAsia's creditor banks to have its takeover plan approved and the banks are expected to meet next week to discuss the bid.
If Far Eastern is to restructure TransAsia, the consortium of creditors must agree to the airline's proposal and then ask the court to designate Far Eastern as the company that will restructure TransAsia.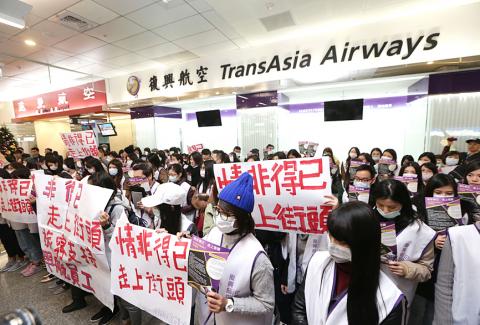 Former TransAsia Airways staff bid farewell to travelers at the airline's counter at Taipei International Airport (Songshan airport) in Taipei yesterday.
Photo: CNA
Far Eastern chief operating officer Tseng Chin-chih (曾金池) said he was optimistic about the banks' decision, adding that the company would have to raise NT$2 billion (US$62.56 million) in capital and get the rest from bank loans for the deal.
Future operations would be run as a two-company joint venture, with TransAsia being renamed Far Eastern United Airlines, Tseng said, adding that, despite a downscaling, Far Eastern expects to retain about 1,000 former TransAsia employees.
Far Eastern had not considered a merger with TransAsia because TransAsia holds an Air Operator Certificate (AOC) that would unnecessarily drag out the process of a merger, Tseng said.
"Under this structure, we hope to resume domestic flights in the shortest possible time," Tseng said, adding that because of the AOC, the new airline could retain services, such as maintenance, standing in as ground crew for other airlines and a catering service.
As air traffic rights held by TransAsia were rescinded by the Civil Aeronautics Administration, Tseng said Far Eastern hopes to negotiate with the agency for all the routes formerly operated by TransAsia.
Domestic routes would be prioritized should the takeover be successful, Tseng said.
In terms of wages, Tseng said airlines have different standards, and capability and experience would be a priority when considering former TransAsia employees.
TransAsia spokesperson Liu Chung-chi (劉忠繼) declined to comment on the issue.
The administration yesterday said it respected Far Eastern's bid to restructure the airline, but said that it would continue to reassign TransAsia's flight routes as scheduled, adding that other carriers were now coordinating the flight routes.
Additional reporting by Chen Min-wei
Comments will be moderated. Keep comments relevant to the article. Remarks containing abusive and obscene language, personal attacks of any kind or promotion will be removed and the user banned. Final decision will be at the discretion of the Taipei Times.