Soong and Kerry speak at APEC
People First Party Chairman (PFP) James Soong (宋楚瑜), in his capacity as Taiwan's representative to the APEC leaders' summit in Lima, had a private meeting with US Secretary of State John Kerry on Thursday to discuss APEC issues.
During the 30-minute meeting, Soong conveyed the views of President Tsai Ing-wen (蔡英文), whom he is representing at the summit, said Lee Hung-chun (李鴻鈞), a PFP lawmaker accompanying Soong.
National Development Council Minister Chen Tain-jy (陳添枝), Minister Without Portfolio John Deng (鄧振中) and US Assistant Secretary of State for East Asia and the Pacific Daniel Russel also joined the discussion, Lee said.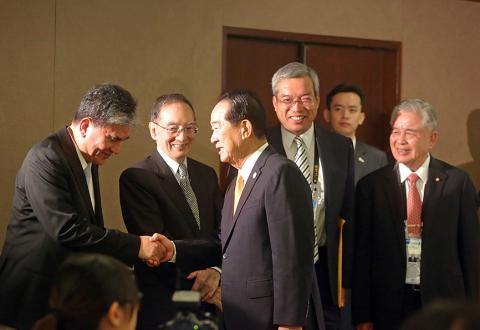 People First Party Chairman James Soong, right, shakes hands with a member of Taiwan's representative group at a news conference in Lima on Thursday. Soong is leading the delegation at the APEC leaders' summit in Peru.
Photo: CNA
The first meeting between a Taiwanese envoy to APEC and a US secretary of state took place in 2012.
On that occasion, then-US secretary of state Hillary Rodham Clinton met with former vice president Lien Chan (連戰), Taiwan's representative to the 2012 APEC summit in Vladivostok, Russia, to discuss advancing US-Taiwan economic relations.
The goal of attending this year's summit in Peru is to help small and medium-sized Taiwanese enterprises connect with business partners around the world, develop and deepen economic and trade relations with other APEC members, and highlight Taiwan's economic momentum, Lee said.
Even though Taiwan is a member of the forum for 21 Pacific Rim economies, no president has been invited to attend the summit because of objections from Beijing.
Comments will be moderated. Keep comments relevant to the article. Remarks containing abusive and obscene language, personal attacks of any kind or promotion will be removed and the user banned. Final decision will be at the discretion of the Taipei Times.