Hollande says UK faces 'tough' talks
French President Francois Hollande warned British Prime Minister Theresa May at her first EU summit on Thursday that she would face tough negotiations if she insists on a "hard Brexit."
May called on EU leaders to work together for a "smooth" withdrawal following Britain's June vote to leave the bloc, but Hollande said her apparent preference for a decisive break means she will not get an easy ride.
"I have said it very clearly: Madame Theresa May wants a hard Brexit? Then talks will be hard, too," he told reporters as he arrived for the two-day talks in Brussels.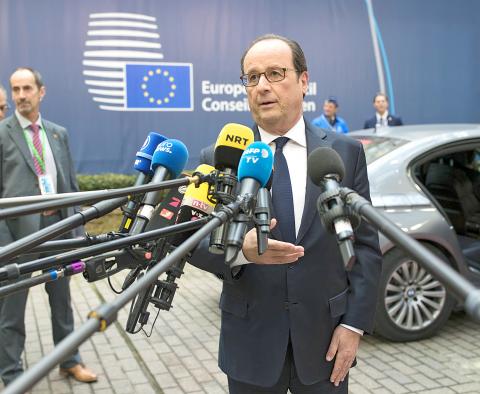 French President Francois Hollande speaks to reporters outside an EU leaders' meeting in Brussels on Thursday.
Photo: Bloomberg
May's announcement earlier this month that she would start formal exit negotiations by the end of March was welcomed by EU leaders, who are pressing for a swift process to limit the uncertainty.
She sparked anger with promises to her Conservative Party to limit EU migration while also seeking "maximum freedom" to operate in the bloc's single market — two things that Brussels says are incompatible.
The French leader's words were in stark contrast to EU President Donald Tusk, who had earlier taken pains to welcome May after she was excluded from last month's summit of 27 leaders in Bratislava.
"Some media described her first meeting in the European Council as entering the lion's den. It's not true. It's more like a nest of doves," Tusk told reporters.
He said that there would be no negotiations before Britain triggers Article 50 of the EU's Lisbon Treaty, which begins a two-year countdown to leaving.
May was to hold her first bilateral talks with European Commission President Jean-Claude Juncker over lunch yesterday.
Arriving in Brussels for her first EU summit since taking office in July, May emphasized that Britain was leaving the bloc, but said it would play a full part until then.
This included calling for a "robust and united" approach to Russia's airstrikes in Syria, although EU leaders were unable to agree on a threat of sanctions.
"The UK is leaving the EU, but we will continue to play a full role until we leave and we'll be a strong and dependable partner after we've left," May told reporters.
At the summit talks, the prime minister questioned the validity of decisions made without her in Bratislava last month.
Tusk said that once Article 50 is triggered, "we have our right and also our legal obligation to meet as 27 to discuss our strategy."
He told a press conference: "It's not our choice. If you ask me I would prefer 28 member states, not only for the next month, but also for the next years and decades."
Over a working dinner on Thursday evening, May gave a brief update of her plans, urging EU leaders to help make Brexit work for both sides.
"We want our departure to be a smooth, constructive, orderly process, minimizing uncertainty," a source in her office said on condition of anonymity.
The source later shrugged off France's tough talk, saying: "It's a negotiation. There's lots being said."
May has refused to give details on her plan for Brexit, amid sharp divisions in her government between ministers who back a clean break and others seeking continued ties to protect the economy.
Her stated intention to prioritize cutting immigration, if necessary at the expense of access to the single market, has alarmed investors and sent the pound plunging.
Comments will be moderated. Keep comments relevant to the article. Remarks containing abusive and obscene language, personal attacks of any kind or promotion will be removed and the user banned. Final decision will be at the discretion of the Taipei Times.