Songwriter-singer Dylan surprise pick for literature Nobel
Singer-songwriter Bob Dylan yesterday won the 2016 Nobel Prize in Literature, a stunning announcement that for the first time bestowed the prestigious award on a musician for "having created new poetic expressions within the great American song tradition."
Reporters and others who gathered at the Swedish Academy's headquarters in Stockholm's Old Town reacted with a loud cheer as his name was read out.
Dylan, 75, is arguably the most iconic poet-musician of his generation. Songs such as Blowin' in the Wind and The Times They Are A-Changin became anthems for the US anti-war and civil rights movements of the 1960s.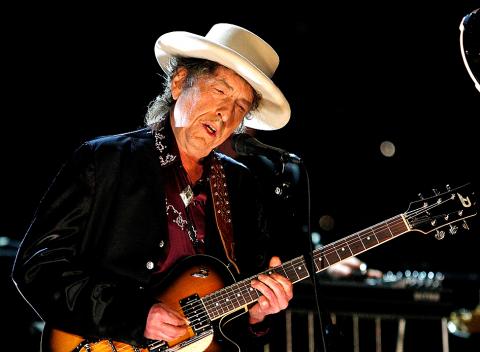 Singer-songwriter Bob Dylan performs on June 11, 2009, at an AFI Life Achievement award ceremony at Sony Pictures in Culver City, California.
Photo: AFP
Dylan's impact on popular culture was immense and his influence as a lyricist extends to every major music figure and songwriter of the last 50 years, from the Beatles to Bruce Springsteen and beyond.
Although he had been mentioned in Nobel speculation for years, many experts had ruled him out, thinking the academy would not extend its more than a century-old award to the world of music.
They were wrong. The academy's permanent secretary, Sara Danius, said while Dylan performs his poetry in the form of songs, that is no different from the ancient Greeks, whose works were often performed to music.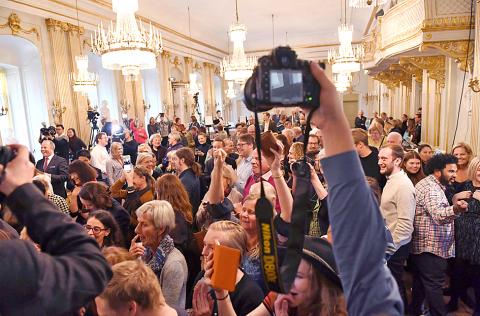 The audience reacts yesterday as Swedish Academy permanent secretary Sara Danius announces that Bob Dylan has been awarded the 2016 Nobel Prize in Literature during a news conference at the Old Stockholm Stock Exchange Building in Stockholm.
Photo: AFP
"Bob Dylan writes poetry for the ear," she said. "But it's perfectly fine to read his works as poetry."
Dylan is the first US winner of the Nobel literature prize since Toni Morrison won in 1993.
Danius said that a "great majority" on the 18-member Nobel panel voted for Dylan. Lyrics from scores of Dylan songs have worked their way into the public lexicon over the years, much in the manner of lines from Shakespearean plays.
Dyland received a lifetime achievement award from the Academy of Recording Arts and Sciences in 1991 and in 2008, he was awarded a Pulitzer Prize for his contributions to music and US culture.
Comments will be moderated. Keep comments relevant to the article. Remarks containing abusive and obscene language, personal attacks of any kind or promotion will be removed and the user banned. Final decision will be at the discretion of the Taipei Times.