Hart, Holmstrom win economics prize
NOBELS: Massachusetts-based economists share this year's prize for the tools that they created that help understand contracts and institutions
British-born Oliver Hart and Bengt Holmstrom of Finland won the Nobel Prize in Economics for shedding light on how contracts help people deal with conflicting interests, from CEO pay packages to whether to privatize a public service.
In announcing the award yesterday, the Royal Swedish Academy of Sciences said that "the new theoretical tools created by Hart and Holmstrom are valuable to the understanding of real-life contracts and institutions, as well as potential pitfalls in contract design."
"These kinds of insights into how we should design contracts are very important because we don't want to give the wrong incentives to people," Nobel committee member Tomas Sjostrom said. "We don't want to reward them for things that they were not responsible for. We want to reward the right thing."
Harvard professor Oliver Hart, left, is is photographed at his home in Lexington, Massachusetts, yesterday after winning the Sveriges Riksbank Prize in Economic Sciences in Memory of Alfred Nobel along with MIT professor Bengt Holmstrom, not pictured.
Photo: EPA
The London-born Hart, 68, who is a US citizen, has taught at Harvard University in Cambridge, Massachusetts, since 1993.
Holmstrom, a 67-year-old Finnish citizen, works at the nearby Massachusetts Institute of Technology and has also served on the board of Finnish mobile phone company Nokia.
Speaking to reporters in Stockholm by telephone, Holmstrom said he felt very lucky and grateful.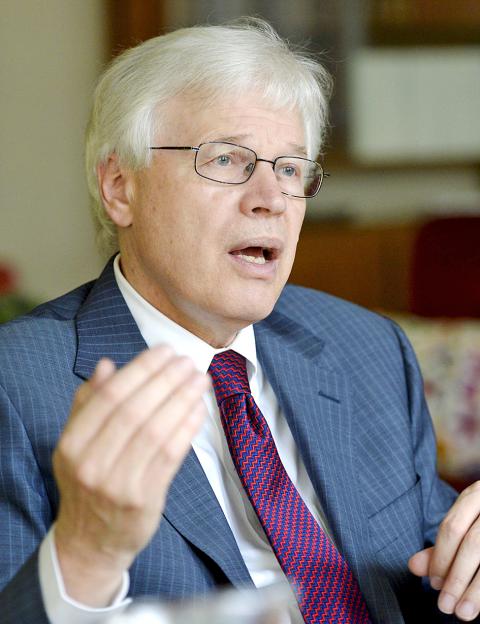 Bengt Holmstrom, a professor at the Massachusetts Institute of Technology, takes part in a business seminar in Helsinki, Finland, on Nov. 2 last year.
Photo: AFP
"I certainly did not expect it, at least at this time, so I was very surprised and very happy, of course," he said.
In the 1970s, Holmstrom showed how a principal — for example, a company's shareholders — should design an optimal contract for an agent, such as the CEO.
His "informativeness principle" showed how the contract should link the agent's pay to information relevant to his or her performance, carefully weighing risks against incentives, the academy said.
Hart made fundamental contributions to a new branch of contract theory in the mid-1980s.
"I woke at about 4:40 and was wondering whether it was getting too late for it to be this year, but then fortunately the phone rang," Hart was quoted as saying on the official Twitter account of the Nobel Prize. "My first action was to hug my wife, wake up my younger son."
Comments will be moderated. Keep comments relevant to the article. Remarks containing abusive and obscene language, personal attacks of any kind or promotion will be removed and the user banned. Final decision will be at the discretion of the Taipei Times.