Tsai orders push for workweek reform
'UNIFORM': The DPP caucus and the Executive Yuan were ordered to complete the legislative process for mandatory two-day weekends by the end of this year
President Tsai Ing-wen (蔡英文) yesterday instructed the Executive Yuan and the Democratic Progressive Party (DPP) caucus to push through the legislature a draft amendment to introduce a five-day workweek with two mandatory days off, while reiterating her administration's determination to carry out pension reform.
Tsai issued the instruction after convening the first weekly "administrative decisionmaking coordination meeting," bringing together officials from the Executive Yuan and the DPP to deliberate on major issues, such as the proposal for mandatory two-day weekends, pension reform and money-laundering allegations against Mega International Commercial Bank (兆豐銀行).
"With regard to the unnecessary confusion caused by inconsistent national holidays, we should unify all public holidays and establish a uniform system applicable to every person in the nation," Presidential Office spokesman Alex Huang (黃重諺) quoted Tsai as saying at the meeting.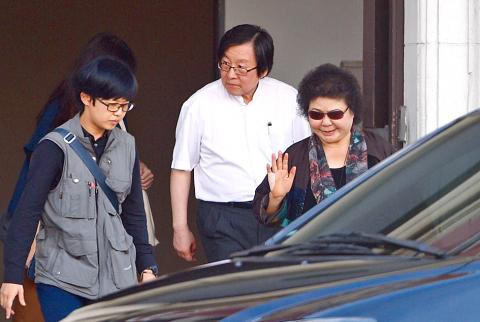 Kaohsiung Mayor Chen Chu waves to the media in Taipei yesterday after attending a coordination meeting chaired by President Tsai Ing-wen.
Photo: Peter Lo, Taipei Times
Huang said the DPP caucus and the Executive Yuan have been ordered to complete the legislative process of the proposed mandatory two-day weekends by the end of this year to ensure that a system is implemented so that workers and employers can arrange their holiday schedules for next year.
Tsai urged the legislative and executive branches to review the annual paid leave system, as the problem at the center of public disputes over the proposed mandatory two-day weekends is not the number of national holidays per year, but whether employees are entitled to enough days off, Huang said.
Regarding the progress on pension reform, Huang quoted Tsai as saying that conflicting opinions at meetings of the Presidential Office's National Pension Reform Committee in the past few months, as well as public discussions and discontent caused by them, have demonstrated two things: "The first is that reform is indeed difficult. Second, success can be expected from the government's efforts this time," adding that the administration is determined to carry out drastic, yet feasible, pension reform.
Participants at the meeting included Vice President Chen Chien-jen (陳建仁), Premier Lin Chuan (林全), Vice Premier Lin Hsi-yao (林錫耀), DPP caucus convener Ker Chien-ming (柯建銘), DPP caucus chief executive Wu Ping-jui (吳秉叡), DPP Secretary-General Hung Yao-fu (洪耀福), the DPP's New Frontier Foundation think tank chief executive officer Chiou I-jen (邱義仁) and Kaohsiung Mayor Chen Chu (陳菊).
Comments will be moderated. Keep comments relevant to the article. Remarks containing abusive and obscene language, personal attacks of any kind or promotion will be removed and the user banned. Final decision will be at the discretion of the Taipei Times.