KMT's Wu, Hung trade barbs over new platform
Chinese Nationalist Party (KMT) Chairwoman Hung Hsiu-chu (洪秀柱) yesterday called for "communication" within the party after former vice president Wu Den-yih (吳敦義), who is in the US, accused her of being "out of tune" with the KMT.
"Hung is out of tune with the KMT, it is not that I have a tune different from hers," Wu said on Thursday in an interview with KTSF, an Asian affairs TV station in the San Francisco Bay Area.
Wu was speaking about the passage of the KMT's new policy platform initiated by Hung that calls for a deepening of the so-called "1992 consensus" and no longer has "one China, different interpretations" in its text, a move that has been interpreted as a step closer to the "one China, same interpretation" framework.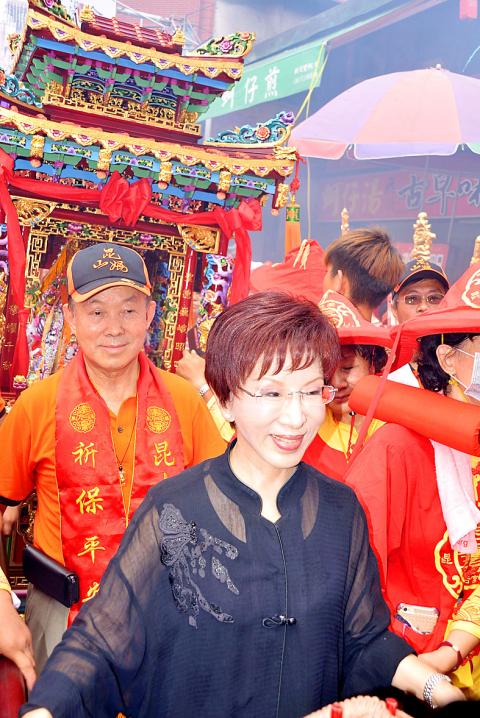 Chinese Nationalist Party (KMT) Chairwoman Hung Hsiu-chu, front, helps carry a palanquin during a religious ceremony at the Lugang Matsu Temple in Changhua County's Lugang Township yesterday.
Photo: CNA
The "1992 consensus" — a term former Mainland Affairs Council chairman Su Chi (蘇起) admitted making up in 2000 — refers to a tacit understanding between the KMT and the Chinese government that both sides acknowledge there is "one China," with each side having its own interpretation of what "China" means.
"Chairwoman Hung has made changes to the '1992 consensus' and 'one China, different interpretations,' a basic principle [of the party] that cannot be severed and that the KMT has insisted on for many years, at least in the past eight years," Wu told KTSF. "The problem lies with her, not us."
The KMT replaced Hung as presidential candidate last year precisely because Hung proposed "one China, same interpretation," Wu said.
"How could you have 'same interpretation'? Is it possible for [China] to recognize that 'one China' is the Republic of China? Impossible. So 'same interpretation' means 'one China' would be the People's Republic of China. [Hung] raised the idea of 'one China, same interpretation' and did not [waver from her position] so a resolution was made to replace her," Wu said.
Wu denied that his remarks had anything to do with the possibility of seeking the KMT chairmanship.
"I did not tell you whether I would run for chairmanship," he said in response to reporters' questions over whether he would change the platform if elected chairman.
Hung yesterday said that the policy platform was passed by the party's national congress and was the result of drawn-out discussions in the party's Central Standing Committee.
Those who reviewed the platform should all know what it is about, Hung said, adding that "one China, different interpretations" has not been removed from the text.
"We are responsible for making it clearer," she said, adding that as a fellow party member she would undertake better communication with Wu when he returns to Taiwan.
Comments will be moderated. Keep comments relevant to the article. Remarks containing abusive and obscene language, personal attacks of any kind or promotion will be removed and the user banned. Final decision will be at the discretion of the Taipei Times.