Obama presses Xi on South China Sea ahead of G20
US President Barack Obama on Saturday pressed his Chinese counterpart, Xi Jinping (習近平), on territorial disputes in the South China Sea, urging Beijing to uphold its legal obligations and stressing the US' commitments to its regional allies.
Xi said China would continue to safeguard its sovereignty and maritime rights in the South China Sea, according to a statement on the Chinese Ministry of Foreign Affairs' Web site.
The two leaders and their delegations met for more than four hours before Obama and Xi talked one-on-one.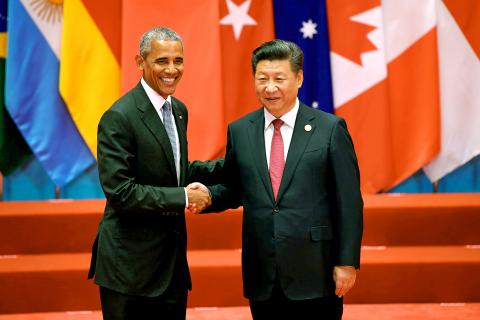 Chinese President Xi Jinping, right, and US President Barack Obama shake hands during the G20 Summit in Hangzhou in China's Zhejiang Province yesterday.
Photo: Reuters
After the meetings with Xi and his top officials, Obama emphasized the importance for China to "abide by its obligations" to an international maritime treaty in the dispute over rights to a territory rich in oil and fish through which US$5 trillion in trade travels each year.
The Permanent Court of Arbitration in The Hague, Netherlands, in July ruled that China had no historic claim over the waters of the South China Sea and had infringed on the rights of the Philippines, which brought the case under the UN Convention on the Law of the Sea.
Xi said in his talks with Obama that China "will persist in peacefully resolving disputes through consultations with parties directly involved."
He urged the US to "play a constructive role" in the peace and stability of the region.
In an unusually lengthy statement following the meeting, the White House said Obama had "underscored the United States' unwavering commitment to the security of its treaty allies."
"The president reaffirmed that the United States will work with all countries in the region to uphold the principles of international law, unimpeded lawful commerce, and freedom of navigation and overflight," the White House said.
China's foreign ministry, in a separate statement, said the US should drop its "double standards on the South China Sea" and play a constructive role in maintaining regional peace and stability.
Obama stressed the need for a "an open trade and investment environment" and "the need for China to protect religious freedom for all of its citizens," the White House said.
China rejects criticism of its human rights record, arguing it has lifted millions out of poverty.
Cyber issues, from concern over hacking and cyberespionage to emerging Chinese policies on information technology, have also strained ties.
Comments will be moderated. Keep comments relevant to the article. Remarks containing abusive and obscene language, personal attacks of any kind or promotion will be removed and the user banned. Final decision will be at the discretion of the Taipei Times.