MND explains cause of missile incident
AMBIGUOUS: Navy Command Headquarters Chief of Staff Mei Chia-shu said a lack of clear instructions contributed to the accidental launch of a Hsiung Feng III missile
The Ministry of National Defense (MND) yesterday released the results of its investigation into an accidental missile launch last month, saying a series of missteps and procedural violations caused the mishap.
A Hsiung Feng III supersonic anti-ship missile was accidentally launched from a Kaohsiung-based Chinchiang-class corvette ahead of a training exercise on July 1. The missile ripped through a fishing boat, killing the boat's captain, Huang Wen-chung (黃文忠), and injuring three crew members.
The missile was launched because Petty Officer Second Class Kao Chia-chun (高嘉駿) accidentally connected unnecessary fire plugs — a connector assembly used to send launch orders, to a missile launcher — Navy Command Headquarters Chief of Staff Vice Admiral Mei Chia-shu (梅家樹) said.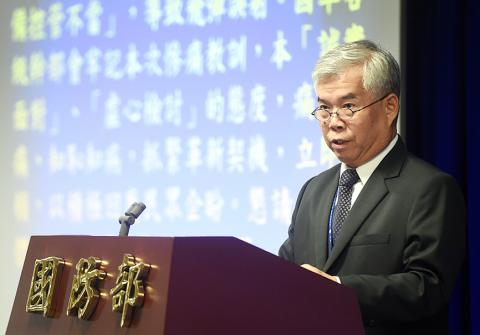 Ministry of National Defense acting Inspector-General Wu Pao-kun announces the findings of his office's investigation into the navy's misfiring of a Hsiung Feng III missile in July, at a news conference held yesterday in Taipei.
Photo: Chien Jung-fong, Taipei Times
Kao was supposed to connect only two fire plugs, because safety devices were installed on only two of the ship's four missiles, but he connected four, Mei said.
Kao's supervisor, Chief Petty Officer Chen Ming-hsiu (陳銘修), should have requested only two fire plugs instead of four, while the ship's weapon systems officers should only have given him two, Mei said.
Chen misunderstood orders for the drill, believing that all four missiles were to be prepared for the training exercise, but the exercise was only to simulate the launch of one missile, Mei said, adding that during a pre-drill rehearsal, Chen left the operations room after ordering Kao to establish two sets of firing solutions.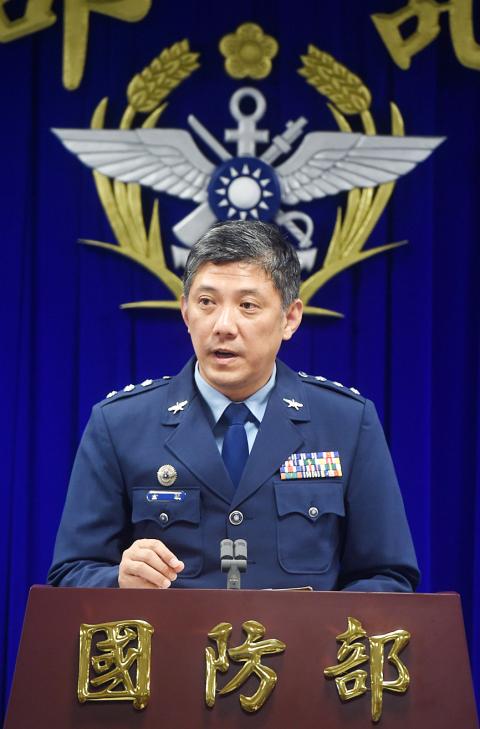 Director of the Ministry of National Defense's legal and judicial services office Chin Ou speaks during a news conference held yesterday in Taipei.
Photo: Chien Jung-fong, Taipei Times
According to protocol, Chen should have supervised Kao throughout the entire process, but Kao was left alone in the operations room as he went through the entire pre-launch process while rehearsing for the exercise, when he accidentally hit the launch button, Mei said.
"There were too many oversights and too much negligence. We are deeply distressed [by the incident], but we have made efforts to improve [launch procedures]," Mei said.
Asked how Chen could have misunderstood orders for the exercise, Mei said instructions were ambiguous, adding that the navy would make improvements.
"The missile system will also be redesigned to prevent accidental launches," Mei said.
Ministry Inspector General Wu Pao-Kun (吳寶琨) said that the July 1 training exercise should not have been scheduled, because the ship's commander had only been in command since April 11, while operational rules stipulate that such high-level drills are not allowed until a commander has been in charge for more than three months.
The ship was scheduled to begin a patrol mission immediately after the drill, and its commander, Major Lin Po-tse (林伯澤), had attended a pre-patrol meeting earlier that day, Wu added.
The tight schedule might have been a contributing factor to the accident, Wu said, adding that the ministry would prevent such scheduling issues.
"In addition to the navy's previously announced disciplinary action, the ship's executive officer and officers who approved the drill are to be punished for procedural violations and failing to provide proper supervision," Wu said.
The Kaohsiung District Prosecutors' Office yesterday charged Kao, Chen and Lieutenant Hsu Po-wei (許博為), the ship's weapon systems officer, with causing the incident.
Kao was charged with negligence resulting in the death of the fishing boat's captain, which could result in a five-year jail term if he is found guilty.
Chen and Hsu were charged with neglecting their duties and causing an accident, which carry a total prison term of three to 10 years.
Comments will be moderated. Keep comments relevant to the article. Remarks containing abusive and obscene language, personal attacks of any kind or promotion will be removed and the user banned. Final decision will be at the discretion of the Taipei Times.