HK government bans pro-independence candidate
'LOCALISTS': A person in favor of independence 'cannot possibly uphold the Basic Law or fulfill his duties as a legislator,' the Hong Kong authorities said
Hong Kong has banned a potential candidate from contesting legislative council elections, saying his pro-independence stance violates constitutional tenets that declare the territory an inalienable part of China.
Chan Ho Tin (陳浩天), a National Party candidate, was disqualified from next month's vote after refusing to sign a declaration acknowledging Hong Kong as an administrative region of China, the South China Morning Post reported.
His position is inconsistent with the territory's constitutional and legal status, the government said in a statement posted on its official Web site.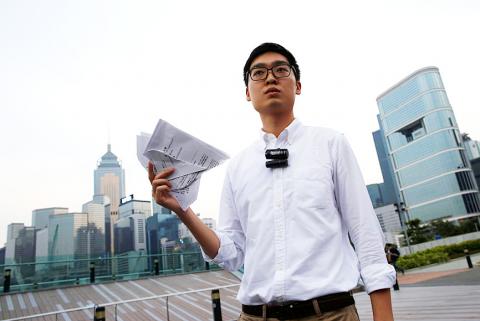 Hong Kong National Party convener Chan Ho Tin on Saturday holds a form saying the terrirory is an "inalienable" part of China, which has been torn into pieces, after being disqualified from running in the territory's Legislative Council elections.
Photo: Ruters
"The candidate cannot possibly comply with the requirements of the relevant electoral laws," the statement said.
A person advocating for independence "cannot possibly uphold the Basic Law or fulfill his duties as a legislator," the government said, referring to Hong Kong's mini-constitution.
Calls for Hong Kong's independence have gained traction since the 2014 pro-democracy "Occupy Central" protests failed to win government concessions for the territory's first direct elections for chief executive next year.
Chan's disqualification might raise questions about the eligibility of candidates with similar positions. He was one of eight so-called "localists" whose bids to run had yet to be accepted as of Friday, the newspaper reported.
The independence movement has grown alongside concerns that Chinese Communist Party leaders in Beijing are encroaching on the autonomy guaranteed to the territory when the UK handed it back in 1997.
In March, the Hong Kong government threatened to bar the formation of a political party advocating independence from China.
Comments will be moderated. Keep comments relevant to the article. Remarks containing abusive and obscene language, personal attacks of any kind or promotion will be removed and the user banned. Final decision will be at the discretion of the Taipei Times.