Solar plane completes epic trip around world
'THE FUTURE IS NOW': The 'Solar Impulse 2' landed in Abu Dhabi to complete its 43,000km pioneering flight in 23 days of flying without using a drop of fuel
Solar Impulse 2 yesterday completed its historic round-the-world journey, becoming the first airplane to circle the globe powered only by the sun.
Cheers and applause broke out as the plane touched down before dawn in Abu Dhabi after the final leg of its marathon trip, which began on March 9 last year.
Swiss explorer and project director Bertrand Piccard was in the cockpit during the more than 48-hour flight from Cairo, crossing the Red Sea, the vast Saudi desert and flying over the Persian Gulf.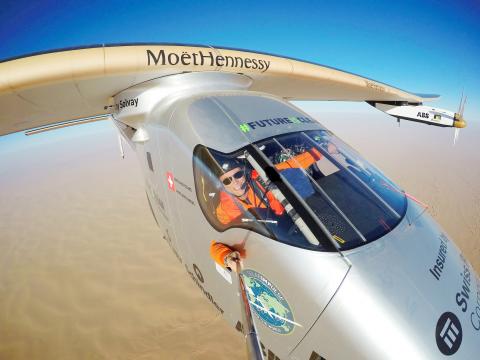 A selfie picture shows Swiss pilot Bertrand Piccard during the last leg of his round-the-world trip on Solar Impulse 2 over the Arab Peninsula on Monday.
Photo: Reuters
It capped a remarkable 43,000km journey across four continents, two oceans and three seas, accomplished in 23 days of flying without a drop of fuel.
"The future is clean, the future is you, the future is now, let's take it further," Piccard said as he disembarked.
"One thing I would like for you to remember: More than an achievement in the history of aviation, Solar Impulse has made an achievement in [the] history of energy," he said. "We have enough solutions, enough technologies. We should never accept the world to be polluted only because people are scared to think in another way."
Hours before landing, UN Secretary-General Ban Ki-moon lavished praise on the team in a live-streamed conversation.
"My deepest admiration and respect for your courage," he said. "This is a historic day, not only for you, but for humanity."
Solar Impulse 2 circumnavigated the globe in 17 stages, with 58-year-old Piccard and his compatriot Andre Borschberg taking turns at the controls of the single-seat aircraft. Borschberg, 63, smashed the record for the longest uninterrupted solo journey in aviation history between Nagoya, Japan, and Hawaii that lasted nearly 118 hours and covered 8,924km last year.
Comments will be moderated. Keep comments relevant to the article. Remarks containing abusive and obscene language, personal attacks of any kind or promotion will be removed and the user banned. Final decision will be at the discretion of the Taipei Times.