Second union backs CAL cabin crew call for strike
The China Airlines Maintenance and Engineering Labor Union yesterday voiced support for the airline's cabin crew, saying that if China Airlines Ltd (CAL, 中華航空) does not stop cooperating with dispatch companies, the union would join the cabin crew's call for a planned strike over the Dragon Boat Festival holiday from June 9 to June 11.
The Taoyuan Flight Attendants Union has threatened to strike over proposed rules that would reduce their leave time. Talks on Friday hosted by the Taoyuan City Government Bureau of Labor broke down.
The maintenance union in a statement yesterday said that the airline has neglected its mechanics and engineers, and overlooked their basic working rights.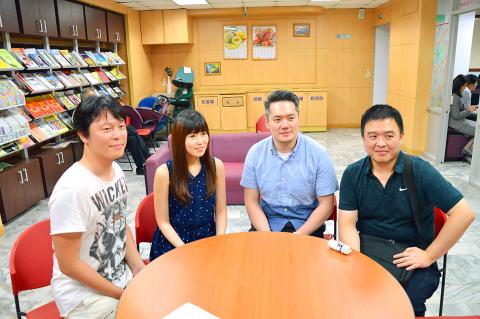 Representatives of the Taoyuan Flight Attendants Union pose for photographers in Taoyuan on Friday.
Photo: Hsieh Wu-hsiung, Taipei Times
The quality of our repair work — which is the cornerstone of aviation security — is overlooked or has become merely a slogan for the company, it said.
CAL said it would work to improve justice and fairness.
The maintenance union said that people in positions of authority have power, but refuse to take responsibility.
CAL has had a long-term labor shortage of qualified mechanics, because such personnel require at least three to five years of training, the maintenance union said, adding that the airline is facing an issue of discontinuity in terms of passing on the experience of its mechanics.
The airline is already experiencing lengthy delays in work carried out by first-line mechanics, while new personnel have a high turnover rate, the maintenance union said, adding that instead of using its resources to hire mechanics who are more experienced and investing in new mechanics, the company is establishing a subsiduary, Taiwan Aircraft Maintenance and Engineering Co (TAMECO).
The airline said its newest fleet would be maintained by TAMECO, while older airplanes would continue to be serviced by the China Airlines Maintenance and Engineering division, according to the maintenance union, which added that CAL failed to explain what would happen to mechanics at the division once the older airplanes are retired.
It said CAL lacked sincerity and failed to guarantee work for mechanics at the division.
It said cooperation with dispatch companies has seen more workers being paid hourly rates.
The maintenance union called on CAL to guarantee mechanics' job security and adjust the salary system.
CAL said it would only cooperate with TAMECO and the work is not limited to new recruits, adding that staff at the division could apply to take qualification examinations to transfer to TAMECO.
The division would not be affected by the establishment of TAMECO and workers' rights would not be lost, CAL said.
CAL said that the maintenance union is not a legal entity as defined by the Ministry of Labor, adding that it encourages its engineering and mechanical staff to voice their opinions through the China Airlines Employees' Union.
Comments will be moderated. Keep comments relevant to the article. Remarks containing abusive and obscene language, personal attacks of any kind or promotion will be removed and the user banned. Final decision will be at the discretion of the Taipei Times.