Education minister insists curriculum had 'no problems'
Minister of Education Wu Se-hwa (吳思華) yesterday said that one of his greatest legacies is that education authorities at various levels have found no problems with the controversial curriculum guidelines.
Wu made the remark during his last question-and-answer session at a meeting of the legislature's Education and Culture Committee, where lawmakers were discussing a proposal to abolish the controversial high-school history curriculum guidelines.
Chinese Nationalist Party (KMT) Legislator Ko Chih-en (柯志恩) asked Wu what achievements he was most proud of from his tenure as minister.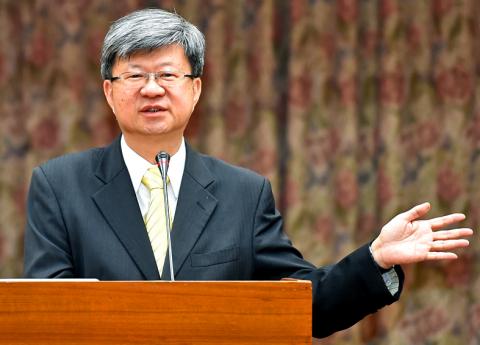 Minister of Education Wu Se-hwa yesterday speaks at the Legislative Yuan in Taipei.
Photo: Chu Pei-hsiung, Taipei Times
Wu said the Ministry of Education had "bravely" stood up to the problems created by changes to guidelines and that despite the vastly different political views held by different groups, he was glad that education officials were able to demonstrate solidarity and internal harmony, as "from central to local government levels, we did not see any problems related to controversial curriculum guidelines."
Wu's remarks drew criticism from Democratic Progressive Party (DPP) Legislator Rosalia Wu (吳思瑤), who said that they were a far cry from the public's understanding.
Rosalia Wu said that if the minister were to look himself up on the Chinese-language Wikipedia, he would see an entire section titled "Controversy on High School History Curriculum Guideline Alterations," and she urged him not to dodge problems.
She said that had Wu Se-hwa's bureaucrats not delayed communicating with protesters, who demonstrated last year from May until July, the students would not have breached the ministry compound in Taipei and the denouement where the ministry asked police to arrest students and pressed charges against them would not have occurred.
She asked him how he would respond to the protesters if he had a second chance.
Wu Se-hwa said he had attended a meeting with some of the protesters at National Taichung First Senior High School, where he saw that the students were being manipulated by "certain individuals."
Rosalia Wu demanded that Wu Se-hwa name names, but the minister said: "I suggest that the Legislative Yuan establish a truth commission" to investigate possible instigators.
Rosalia Wu said the minister was not in a position to give orders to the incoming government of president-elect Tsai Ing-wen (蔡英文), just as he earlier in the day urged the incoming Cabinet to propose a draft bill on reshuffling the curriculum guidelines review committee and suggested that legislators drop the issue until then.
"If you believe this is something that needs to be done, you should propose a draft bill now," she said.
Comments will be moderated. Keep comments relevant to the article. Remarks containing abusive and obscene language, personal attacks of any kind or promotion will be removed and the user banned. Final decision will be at the discretion of the Taipei Times.