Pyongyang sentences US man in espionage case
North Korea's Supreme Court yesterday sentenced a Korean-American man to 10 years of hard labor on charges of subversion, North Korean media reported, in the latest conviction of a foreigner for crimes against the isolated state.
Kim Dong-chul, 62, was arrested in North Korea in October last year and admitted to committing "unpardonable espionage," including stealing military secrets, the North's Korean Central News Agency (KCNA) reported earlier.
"The accused confessed to all crimes he had committed ... and gathered and offered information on its party, state and military affairs to the South Korean puppet regime, which are tantamount to state subversive plots and espionage," it said.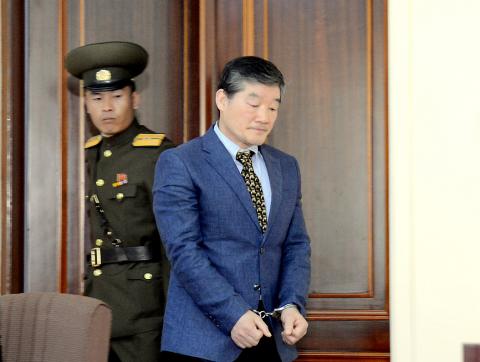 Korean American Kim Dong-chul enters a courtroom in an undated photograph released by the Korean Central News Agency in Pyongyang yesterday.
Photo: Reuters
State prosecutors sought a 15-year sentence. His defense attorney requested leniency considering his age, KCNA said.
Kim was shown in photographs handcuffed and wearing a tie and blue jacket. He looked distressed and was flanked by uniformed guards.
North Korea, which has been criticized over its human rights record for years, has used detained Americans in the past to extract high-profile visits from the US.
Comments will be moderated. Keep comments relevant to the article. Remarks containing abusive and obscene language, personal attacks of any kind or promotion will be removed and the user banned. Final decision will be at the discretion of the Taipei Times.