Tsai urged to outline curriculum changes
President-elect Tsai Ing-wen (蔡英文) should set a timeline for and clarify the contents of planned changes to controversial high-school curriculum guidelines, as schools begin their textbook selection processes, civic groups said yesterday, adding that chaos could erupt if changes are announced after Tsai takes office on May 20.
Taiwan Grassroots Education Alliance member Chang Wen-lung (張文隆), a history teacher at New Taipei City Municipal San Min High School, said that Tsai should promise to withdraw the guidelines as soon as she is sworn in on May 20 to clear up possible confusion about her intentions.
"People have serious doubts about the educational policy of the new administration," Chang said. "[Tsai's] rhetoric has always been vague, saying that she would address the matter after the presidential election, so if she does not state her stance clearly, it would be unclear what she is hesitating over."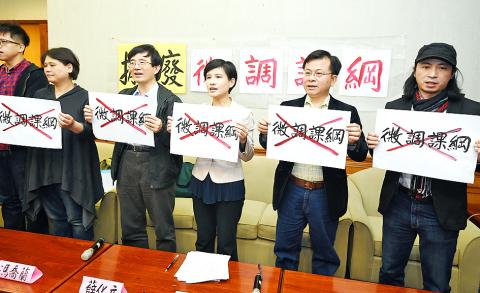 Education activists together with Democratic Progressive Party Legislator Cheng Li-chun, third right, and National Chengchi University professor Hsueh Hua-yuan, third left, call upon the Ministry of Education to immediately halt changes to the high school curriculum during a news conference in Taipei yesterday.
Photo: Liao Chen-huei, Taipei Times
While Tsai has promised to withdraw the high-school social studies guidelines implemented last year, it is unclear whether the Chinese language and geography portions of the guidelines would be included along with history and civics, Chang said, adding that a timeline for the withdrawal is also unclear.
"We have no idea how long it would take to address history and civics, but if Tsai waits until after textbooks have been chosen and contracts have been signed, continued usage of the guidelines next year would be unavoidable," he said, adding that while schools have some flexibility over when they choose textbooks, most decisions are made in April and May to allow paperwork to be processed before the summer break.
The Ministry of Education has allowed schools to choose textbooks based on both the old and new sets of guidelines, following controversy over what critics called "China-centric" revisions.
Cheng Chi-jui (鄭啟瑞), a history teacher at New Taipei Municipal Taishan Senior High School, said the continued use of both sets of guidelines doubled the burden of teaching graduates preparing for official exams.
"In addition to familiarizing themselves with the different textbook versions, [teaching graduates] must also keep track of which textbooks are based on the 'old' and 'new' guidelines, effectively doubling their workload," he said.
Democratic Progressive Party Legislator Cheng Li-chun (鄭麗君) said that while her motion to order the withdrawal of the guidelines had garnered 65 signatures — more than a majority of national legislators — the Chinese Nationalist Party (KMT) used parliamentary procedures to delay a formal vote until next month by exercising its right to demand "cross-caucus negotiations."
Cheng called for the ministry to immediately withdraw the guidelines on its own initiative, blasting ministry statements that any withdrawal would leave schools without direction.
The Chinese language and social studies components of curriculum guidelines were withdrawn after President Ma Ying-jeou (馬英九) took power in 2008, with the ministry simply ordering schools to follow an earlier set of guidelines, Cheng said.
Comments will be moderated. Keep comments relevant to the article. Remarks containing abusive and obscene language, personal attacks of any kind or promotion will be removed and the user banned. Final decision will be at the discretion of the Taipei Times.