Wong denies insider trade allegations
OBI PHARMA SCANDAL: A legislative committee has asked the Academia Sinica president to attend a hearing on Monday to shed light on the controversy
Academia Sinica President Wong Chi-huey (翁啟惠) yesterday denied engaging in insider trading or speculating on the stock of a biopharmaceutical company.
In a 45-minute meeting with President Ma Ying-jeou (馬英九), Wong said that he had "no intention of acting unlawfully," according to the Presidential Office.
Wong told Ma that he was sorry for the trouble generated by the controversy.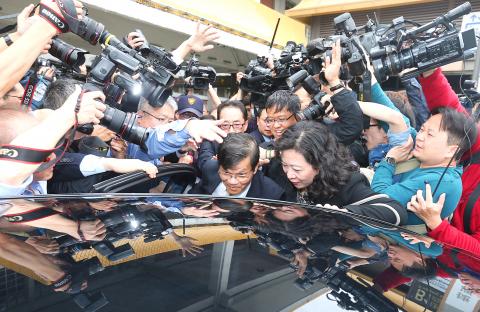 Academia Sinica President Wong Chi-huey, center, is surrounded by reporters yesterday as he tries to get into a car at Taipei International (Songshan) Airport.
Photo: CNA
Upon his arrival at Taipei International (Songshan) Airport earlier yesterday, Wong again apologized for the controversy and said he was not involved in insider trading, nor did he have any intention of manipulating OBI Pharma Inc (台灣浩鼎) shares, some of which were held in his daughter's name.
The legislature's Education and Culture Committee has asked Wong to attend a hearing on Monday on the OBI Pharma case, committee convener and Democratic Progressive Party Legislator Huang Kuo-shu (黃國書) said.
Wong tendered his resignation on March 31, citing health reasons. Ma did not accept it, urging Wong to return from his official leave in the US to shed light on the scandal.
Neither Ma nor Wong mentioned the resignation request during the meeting, Presidential Office spokesman Charles Chen (陳以信) said.
The controversy erupted following Wong's endorsement of a new cancer drug produced by OBI Pharma, even though the company announced on Feb. 21 that the drug had failed second and third-round clinical trials, news that sent the company's stock price plunging.
Wong, a biochemist considered to be an expert on the theory behind OBI Pharma's cancer drug, issued a statement on March 3 through Academia Sinica, saying he does not hold any shares in any Taiwanese biotech companies.
However, on March 23, the Chinese-language Next Magazine reported that Wong's daughter, Wong Yu-shioh (翁郁秀), had acquired 3 million OBI Pharma shares in 2012 at a price of NT$31 per share before the company debuted on the over-the-counter market at NT$310 per share the following year.
The story fueled accusations against Wong Chi-huey of a potential conflict of interest and insider trading, as OBI's announcement had sent the company's stock price tumbling 35 percent in just four days.
An initial investigation later found that Wong Yu-shioh had sold 10,000 OBI Pharma shares three days before the announcement of the cancer drug's failure.
On Thursday last week, Wong Chi-huey issued a statement saying he had sold the 10,000 shares on his daughter's behalf on Feb. 18, on the advice of a stockbroker.
Wong Chi-huey said he was not privy to the trial results before the shares were sold and that the decision was unrelated to the results of the drug trials.
As part of their investigation into the case, prosecutors yesterday conducted a search of seven locations, including OBI Pharma's headquarters and the residence of company chairman Michael Chang (張念慈) and later listed Chang as a suspect.
Prosecutors are expected to summon Wong Chi-huey for questioning next week.
Comments will be moderated. Keep comments relevant to the article. Remarks containing abusive and obscene language, personal attacks of any kind or promotion will be removed and the user banned. Final decision will be at the discretion of the Taipei Times.