Defeat of S Korea's Park raises 'lame-duck' prospect
South Korean President Park Geun-hye's ruling conservatives suffered a surprise defeat in parliamentary elections on Wednesday, raising doubts about the president's ability to pursue her agenda to boost a sluggish economy.
The loss by Park's Saenuri Party means her government can expect more legislative deadlock, and a prominent newspaper yesterday said she now leads a lame-duck administration.
However, Park's tough position on North Korea is not expected to be affected by her party's setback, especially given prevailing tension triggered by the North's fourth nuclear test in January and a space rocket launch a month later.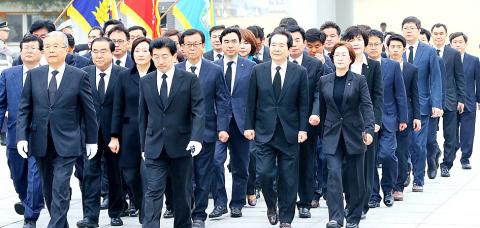 Members of the main opposition Minjoo Party who won in the parliamentary election on Wednesday visit the National Cemetery in Seoul yesterday.
Photo: EPA
The Saenuri Party had been expected to win a majority, but ended up with 122 of the 300 National Assembly seats in the single-chamber parliament in Wednesday's vote. The main opposition Minjoo Party won 123 seats and the People's Party got 38, the National Election Commission announced.
"Saenuri Party humbly accepts the judgement of the people," party chief Kim Moo-sung told a meeting at which he announced he was stepping down.
Park made no comment yesterday. Her spokesman, Jung Youn-kuk, said the president's office hoped the incoming parliament would try to address issues affecting the people.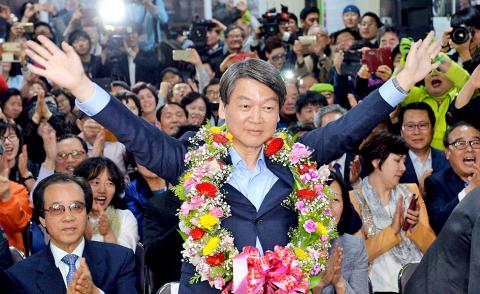 Ahn Cheol-soo, co-chairman of the minor opposition People's Party, celebrates his victory in the parliamentary election at his office in Seoul on Wednesday.
Photo: Reuters
South Korea has a strong presidential system with a leader who is constitutionally limited to a single term, but has control over domestic and foreign policy.
The election defeat is likely to be a setback for the prospects of her party fielding a winning candidate in the presidential vote scheduled for December next year.
Her legislative agenda including tax breaks and investment incentives for the service sector and relaxing labor laws to boost jobs has been bogged down in a parliament deadlocked by feuding.
Conservative media that backed Park and her Saenuri Party were critical, saying she had done more to harm her chances of working with parliament than anyone.
"Now her government has received a vote of no confidence, the lame-duck period has started earlier than any other administration in the past," the Chosun Ilbo newspaper said in an editorial.
The interim leader of the victorious liberal Minjoo Party, former Park ally and adviser, Kim Chong-in, said voters had rejected the "misguided" economic policies of Park and her party.
"We will change the course of this country's economy to a path of economic democracy and more inclusive growth," Kim told a news conference.
Comments will be moderated. Keep comments relevant to the article. Remarks containing abusive and obscene language, personal attacks of any kind or promotion will be removed and the user banned. Final decision will be at the discretion of the Taipei Times.