Lawmakers demand minister's resignation over Kenya affair
The fallout from Kenya's deportation of Taiwanese to China led to angry confrontations at a legislative committee meeting yesterday, with lawmakers demanding the resignation of Minister of Justice Luo Ying-shay (羅瑩雪) for what they said was her "contemptuous attitude" and the ministry's failures.
Luo faced a barrage of criticism and questions throughout the day, as members of the legislature's Judiciary and Organic Laws and Statutes Committee took turns to question her and Ministry of Justice officials over their handling of the Kenya deportations, and similar cases where China sought the extradition of Taiwanese as part of investigations into alleged criminal activities in third-party nations.
The rancor culminated in Democratic Progressive Party (DPP) Legislator Tuan Yi-kang (段宜康) proposing a motion, which his DPP colleagues endorsed, to ask the Executive Yuan to immediately remove Luo from her post.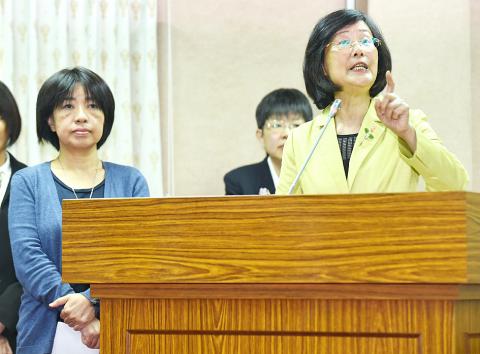 Minister of Justice Luo Ying-shay, right, yesterday speaks during a question-and-answer session at the Legislative Yuan in Taipei, as Department of International and Cross-Strait Legal Affairs Director Chen Wen-chi, left, looks on.
Photo: Liu Hsin-de, Taipei Times
In addition to Luo's "contemptuous attitude" and "self-righteous justification" in responding to questions, the motion said the justice ministry failed to take proper actions in dealing with the Kenya deportations, failed to uphold the nation's sovereignty and has undermined Taiwan's standing in the international community.
Tuan had earlier taken Luo to task regarding the ministry's statement on Wednesday, which urged the public to look at the deportation incident in a "calm manner" and not be led astray by the prevailing "populistic" mood."
The two quarreled over what the ministry considered to be the prevailing "populistic" mood, with Tuan angrily denouncing the minister for giving up Taiwan's legal jurisdiction over its citizens by agreeing with China's statement that it has jurisdiction because victims in the case were all Chinese nationals.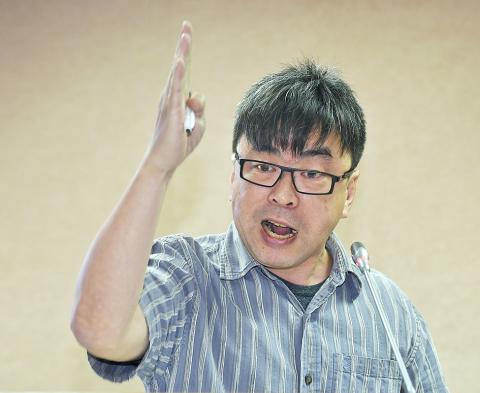 Democratic Progressive Party Legislator Tuan Yi-kang speaks during a question-and-answer session at the Legislative Yuan in Taipei yesterday.
Photo: Liu Hsin-de, Taipei Times
Saying that the Ministry of Foreign Affairs and Mainland Affairs Council had lodged protests with China, Tuan said the justice ministry had not done so, adding: "Your attitude has damaged our national sovereignty and has given up the basic legal protection for our citizens. If our minister of justice still holds this attitude today, then you should resign before leaving this meeting today."
At one point, Tuan slammed his fist on the podium in anger and yelled: "You should be ashamed of yourself."
Luo responded by saying that the ministry had put in its best efforts into negotiating with China.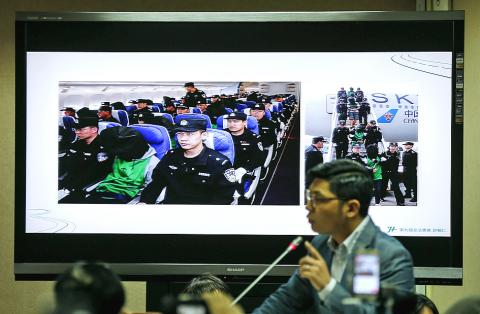 Pictures of Taiwanese nationals deported from Kenya to China are displayed on a monitor during a legislator's inquiry into the incident yesterday in Taipei.
Photo: Ritchie Tongo, EPA
"You cannot ask us, on one hand, to negotiate, and on the other hand, to protest against China... Your comments are what we meant by populism," she said.
DPP Legislator Wellington Koo (顧立雄) also squabbled with Luo, as he railed against her comments on Wednesday that Taiwan's punishment for the fraud offenses is not strong enough and insinuating that it is the right decision to have the fraud suspects tried in China.
Luo "parroted what Chinese authorities have said," Koo said.
Luo said she could not accept such a statement, to which Koo said her reply was "ridiculous to the extreme."
The committee approved Tuan's motion demanding Luo's resignation for caving in to China's stance on having legal jurisdiction, undermining the rights of Taiwanese and for speaking to the media about the case, adding that the justice system is not for protecting criminals, but should be for punishing criminals.
Comments will be moderated. Keep comments relevant to the article. Remarks containing abusive and obscene language, personal attacks of any kind or promotion will be removed and the user banned. Final decision will be at the discretion of the Taipei Times.