US and Taiwan announce expedited travel program
'DEEP, EXPANDING TIES': The program will allow preapproved frequent travelers a quick route through customs and immigration, starting by the end of this year
The US and Taiwan on Monday agreed to cooperate on a new program aimed at expediting travel between the two countries.
Taipei Economic and Cultural Representative Office (TECRO) Representative Shen Lyu-shun (沈呂巡) and American Institute in Taiwan (AIT) Managing Director Joseph Donovan signed the cooperation agreement at a short ceremony at the AIT's offices in Washington.
The International Expedited Traveler Initiative will eventually grant preapproved, low-risk travelers a fast track through customs and immigration. It will be known as the Global Entry program in the US and as the E-gate program in Taiwan.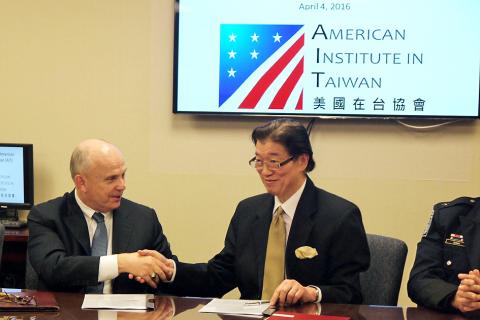 American Institute in Taiwan (AIT) Managing Director Joseph Donovan, left, and Taipei Economic and Cultural Representative Office Representative Shen Lyu-shun sign a cooperation agreement in the AIT offices in suburban Washington on Monday.
Photo: CNA
"For more than three decades, the US and Taiwan have shared a strong foundation of people-to-people ties," a statement released by the AIT said.
Since Taiwan's participation in the Visa Waiver Program began in 2012, travel from Taiwan to the US has increased by more than 50 percent and the US now ranks as the fifth-largest source of tourists to Taiwan.
The new program is expected to go into effect before the end of this year.
A fact sheet released by the AIT explained that Global Entry streamlines the screening process at US airports for trusted travelers, allowing customs officials to focus on those they know less about, while Taiwan's E-Gate program provides streamlined immigration clearance.
At this point, Global Entry is available to qualified citizens of the UK, Germany, the Netherlands, Panama, South Korea, Mexico and Canada.
"It will measurably help thousands of travelers from Taiwan and the US — last year Taiwan had nearly 14,000 frequent travelers to the US, many of whom can benefit from access to Global Entry," Donovan said.
About 150,000 Americans who travel to Taiwan two or more times in a typical year could benefit from E-Gate.
"This joint statement is just one sign of the deep and expanding ties between the people of the US and the people of Taiwan," Donovan said.
"In the past 12 months alone, more than a dozen new agreements have been signed and many more are under consideration. We are very proud of this cooperation and even prouder of our ties to our Taiwan partners," he added.
Shen said the agreement would allow Taiwanese travelers to enter the US with more "convenience and dignity" and without having to wait in long lines.
He said it would "hopefully" become operational within a few months.
In 2014, Taiwanese travelers made an estimated 413,000 visits to the US.
Shen said that if each traveler could save an average of 14 minutes as a result of the new program there would be a "tremendous" joint saving of time.
"This is another example demonstrating that Taiwan-US relations are now at their best since the Taiwan Relations Act was adopted in 1979," Shen said.
Comments will be moderated. Keep comments relevant to the article. Remarks containing abusive and obscene language, personal attacks of any kind or promotion will be removed and the user banned. Final decision will be at the discretion of the Taipei Times.