Academia Sinica head should stand down: KMT caucus
HARD FACTS? An OBI statement said that, until at least 2014, Wong Yu-shioh had 1.93 million shares, said to be worth an estimated NT$800 million
The Chinese Nationalist Party (KMT) caucus yesterday called for Academia Sinica President Wong Chi-huey (翁啟惠) to step down, following reports that his daughter is the 10th-largest shareholder of OBI Pharma Inc (台灣浩鼎).
KMT Legislator-at-large William Tseng (曾銘宗) earlier this month called into question Wong's impartiality in speaking in support of the company when its share price suffered a sharp drop after announcing a negative outcome for a new breast cancer drug.
Academia Sinica on March 2 issued a statement saying that Wong had no biotechnology company shares.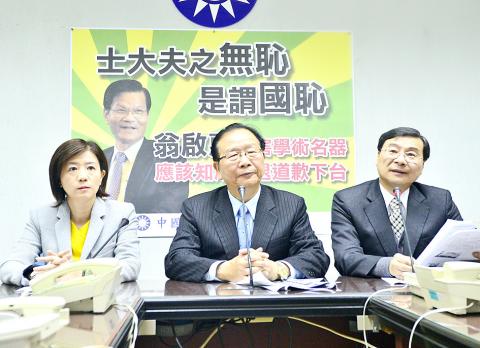 Chinese Nationalist Party (KMT) Legislator Lin Te-fu, center, and his colleagues call for Academia Sinica President Wong Chi-huey to resign at a news conference at the Legislative Yuan in Taipei yesterday.
Photo: Wang Yi-sung, Taipei Times
However, the Chinese-language Next Magazine yesterday reported that Wong's daughter, Wong Yu-shioh (翁郁秀), has up to 1.9 million OBI Pharma shares, making her one of the top-10 shareholders of the company.
The magazine alleged Wong Yu-shioh bought 3 million shares at NT$31 per share from Ruentex Group (潤泰集團) chairman Samuel Yin (尹衍樑).
An OBI statement said that until at least 2014, Wong Yu-shioh still had 1.93 million shares, which amounts to about NT$800 million (US$24.52 million) based on yesterday's closing price of NT$433.
The KMT caucus called on Wong Chi-huey to issue a public explanation. KMT Legislator Alicia Wang (王育敏) said the Academic Sinica president should know right from wrong, calling on prosecutors and the Control Yuan to initiate an investigation.
"President Wong, were you aware that your daughter had more than 3 million shares and is the 10th-largest OBI Pharma shareholder? Your daughter, an artist under the age of 40, has tens of millions of New Taiwan dollars worth of assets in shares — is the money yours or hers? There is no way you can shirk these two questions," Wang said.
Tseng said he found that, despite Academia Sinica's statement, Changchun Investment Holding Co (長春投資) and Yuanhong Investment Holding Co (原弘投資), both members of the Ruentex Group (潤泰集團), had transferred 3 million OBI shares to Wong Yu-shioh in 2012.
Tseng said he suspects that the shares were for Wong Chi-huey rather than his daughter, calling on the Financial Supervisory Commission and prosecutors to conduct an investigation.
Comments will be moderated. Keep comments relevant to the article. Remarks containing abusive and obscene language, personal attacks of any kind or promotion will be removed and the user banned. Final decision will be at the discretion of the Taipei Times.