ASE latest SPIL takeover bid faces expiration today
Advanced Semiconductor Engineering Inc's (ASE, 日月光半導體) latest takeover bid for rival Siliconware Precision Industries Co (SPIL, 矽品精密) might fall through, as the Fair Trade Commission (FTC) at a meeting yesterday did not give the nod on the eve of the deal's deadline.
ASE faces the expiration of the NT$42.35 billion (US$1.29 billion) takeover bid today.
The commission's approval is one of the deciding factors for ASE to clinch the deal, along with a minimal purchase threshold of 5 percent of 770 million proposed SPIL shares.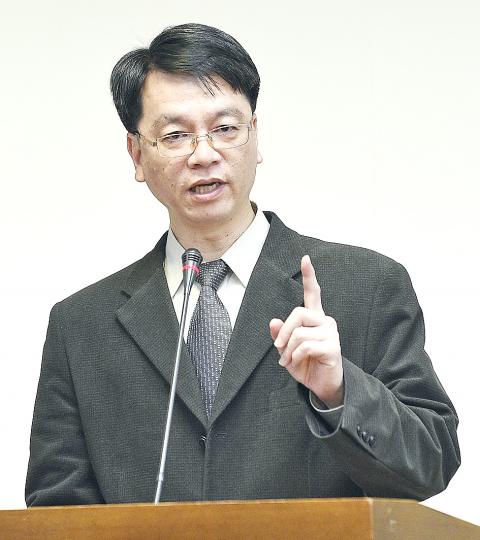 Fair Trade Commission Chairman Wu Shiow-ming speaks at the Legislative Yuan in Taipei on Mar 9 on Wednesday last week.
Photo: Chen Chih-chu, Taipei Times
As of Feb. 3, ASE had bought 2.9 percent, or 89.77 million, of SPIL's shares, according to an ASE filing with the Taiwan Stock Exchange on Feb. 4.
"We decided to extend our discussion to the next meeting, as there are still issues that need to be clarified," commission vice chairman Chiu Yung-ho (邱永和) said by telephone. "This is a complicated case, full of disputes."
There was little advance at the meeting as disputes surrounded the possible effects of an ASE-SPIL combination on market competition, on the nation's economy and on the development of innovative technologies, Chiu said.
Chiu said the commission would stick to its plan to extend the review over a possible ASE-SPIL merger before making a final ruling on May 1.
The commission's approval would open the door for ASE to launch a third tender offer to get control of SPIL within a year, as the Financial Supervisory Commission has suggested.
However, SPIL yesterday called on the Fair Trade Commission to terminate the review, as ASE's acquisition of SPIL was to fail today.
"There is no reason for the Fair Trade Commission to continue its review, since there is no case at all," SPIL spokesman Mike Ma (馬光華) said in a statement.
SPIL shares climbed 0.39 percent to NT$50.9 in Taipei trading yesterday, lower than ASE's proposed offer of NT$55 per share. ASE shares fell 0.97 percent to close at NT$35.85.
Comments will be moderated. Keep comments relevant to the article. Remarks containing abusive and obscene language, personal attacks of any kind or promotion will be removed and the user banned. Final decision will be at the discretion of the Taipei Times.