China's defense budget to slow in line with economy
China's defense budget this year is likely to rise at its slowest pace since 2010, in line with the decelerating economy and by a much lower figure than had been expected in military and diplomatic circles, although it probably does not represent true spending.
Chinese National People's Congress spokeswoman Fu Ying (傅瑩) said the figure would increase by about 7 to 8 percent from last year, following a nearly unbroken two-decade run of double-digit budget increases.
China's military buildup has rattled nerves in the region, particularly because China has taken an increasingly assertive stance in its territorial disputes in the East and South China seas.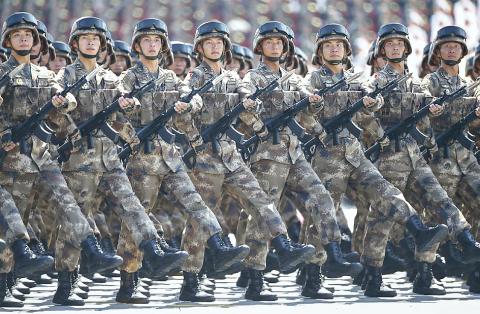 Chinese troops march in a military parade at Tiananmen Square in Beijing on Sept. 3 last year.
Photo: EPA
Fu told a news conference that the defense budget would be released today, when the annual session of China's largely rubber-stamp legislative body opens.
It would be the first single-digit rise in defense spending since 2010, when the military budget logged a 7.5 percent increase.
Defense spending last year was budgeted to rise 10.1 percent to 886.9 billion yuan (US$136.1 billion), about one-quarter of that of the US.
The US Department of Defense budget for this year is US$573 billion.
China's leaders have routinely sought to justify military modernization by linking defense spending to rapid GDP growth, but growth of 6.9 percent last year was the slowest in 25 years, and a further slowdown is widely expected this year.
"One simple reason for the lower increase is that double-digit growth is now harder to sustain," said Bonji Obara of the Tokyo Foundation think tank, a former military attache at Japan's embassy in Beijing.
However, "another reason is that China's anticorruption campaign means less money is being siphoned off and spending has become more efficient," he added, referring to Chinese President Xi Jinping's (習近平) vigorous efforts to root out graft among officials.
The defense budget had been widely expected in military and diplomatic circles to log another double-digit increase.
Fu said the budget was based on national defense needs, the state of China's economy and the performance of its fiscal revenue.
Xinhua news agency said the slower pace of the increase reflected both economic realities and Beijing's determination to pursue peace, but that China still faces complex security threats, including from terrorism, and would not let down its guard.
"There are many reasons for China not to be able to sleep without worries," Xinhua said in a commentary.
China has been repeatedly criticized for a lack of openness in its defense spending and its intentions.
"China needs to be transparent and explain its military spending to the international community," Japanese Minister of Defense Gen Nakatani said in Tokyo ahead of Fu's announcement.
"It's crucial that China does not upset the regional balance and that it firmly contributes to international stability," Nakatani added.
Beijing is feeling public pressure to show it can protect its claims to the South China Sea after the US began conducting "freedom of navigation" operations near islands where China has been carrying out controversial reclamation work and stationing advanced weapons.
Comments will be moderated. Keep comments relevant to the article. Remarks containing abusive and obscene language, personal attacks of any kind or promotion will be removed and the user banned. Final decision will be at the discretion of the Taipei Times.