Taiwan retains its fishing rights north of Yaeyama
EMOTIONAL ISSUE: Suao Fishermen's Association chairman Chen Chun-sheng said that Japanese demands to limit Taiwanese operations in the area are unsatisfactory
The fifth Taiwan-Japan meeting on fishing rights north of the Yaeyama Islands concluded yesterday with Taiwan retaining its right to fish in the inverted triangle zone north of the islands.
Fisheries Agency Director-General Tsay Tzu-yaw (蔡日耀) said the agency would convene a second meeting prior to the convention of the Taiwan-Japan Fishery Committee next year to discuss the details of fishing methods and the retrieval of fishermen's equipment.
The meeting has drawn attention due to the demands made by Okinawa Island fishermen, asking the Japanese government to amend the Taiwan-Japan Fisheries Accord (台日漁業協議) signed in 2013 to narrow the area in which Taiwanese fishermen are allowed to fish, mainly depriving them of access north of the islands.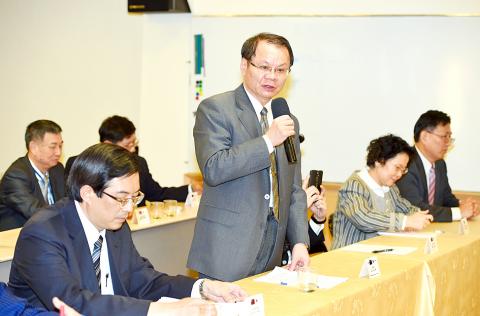 Fisheries Agency Director-General Tsay Tzu-yaw, center, speaks in Taipei yesterday after the fifth Taiwan-Japan fisheries meeting.
Photo: Lo Pei-der, Taipei Times
Suao Fishermen's Association chairman Chen Chun-sheng (陳春生) said that if the Japanese made unreasonable demands, it would undermine the mutual trust between the two sides.
Both sides agreed to abide by the Regulation on Fishing Processes (漁業作業規則) reached last year, Tsay said, but added that Taiwan would hold two separate meetings prior to next year's committee meeting.
Tsay said that the meetings would focus on how fishermen operate in the area — which is north of the Japanese islands about 200km off the Yilan County coast.
The government and fishing associations will be present at the meetings, which are expected to take take place before April next year, right before the fishing season starts, Tsay said.
The meeting would only focus on the methods of operation and not the parameters or area in which they are to be conducted, Tsay said.
Tsay said in response to media queries that the two meetings to be held next year had no connection to the Japanese fishermen's demands to shrink the fishing area open to Taiwanese, adding that the issue was not included in this committee meeting.
Tsay announced the results of the three-day meeting yesterday, accompanied by Ministry of Foreign Affairs Deputy Director-General of East Asian and Pacific Affairs Chou Shyue-yow (周學佑).
Chen said that the results of the meeting were unsatisfactory, but were acceptable, adding that fishermen from both nations have long-standing emotional ties to the fishing area and would need time to come to a mutual understanding.
Chen said that he found the Japanese fishermen's demands unsatisfactory.
Comments will be moderated. Keep comments relevant to the article. Remarks containing abusive and obscene language, personal attacks of any kind or promotion will be removed and the user banned. Final decision will be at the discretion of the Taipei Times.