DPP to redraft bill on monitoring cross-strait pacts
The Democratic Progressive Party (DPP) caucus yesterday said it would redraft a proposed bill on monitoring cross-strait agreements in line with the Republic of China (ROC) Constitution, meaning the terms "Taiwan" and "China" would be changed to "Taiwan Area" and "Mainland Area."
"We will submit an official caucus proposal for a bill to monitor cross-strait negotiations and agreements by the end of the month," DPP caucus whip Ker Chien-ming (柯建銘) said after a meeting to prepare DPP lawmakers for the legislative session scheduled to begin today. "As for the name of the bill, we will refer to the ROC constitutional framework; we will not use the names we used in the past."
Ker said that as the new bill is to conform with the ROC constitutional framework, not only would its title be changed, but some of its content would also be adjusted.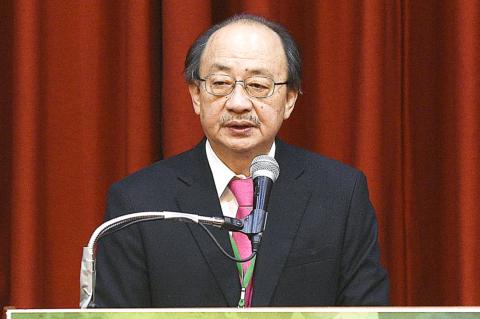 Democratic Progressive Party (DPP) caucus whip Ker Chien-ming addresses a gathering of DPP legislators in Taipei on Wednesday.
Photo: Chen Chih-chu, Taipei Times
The original bill drafted by the DPP in the previous legislature was called "Regulations for Handling Agreements between Taiwan and China," with a preamble stating that the law was meant to regulate issues concerning the signing of agreements between Taiwan and China.
However, since the caucus has decided to follow the ROC constitutional framework, the terms "Taiwan" and "China" would be changed to "Taiwan Area" and "Mainland Area" in accordance with the Constitution and relevant laws on cross-strait issues.
New Power Party executive chairman Huang Kuo-chang (黃國昌) said Ker's comments were unclear and that the DPP had an obligation to explain if and why its position had changed.
The "framework of the Constitution of the Republic of China" can be interpreted in different ways, depending on which part of the Constitution is referenced, Huang said.
He said that if the "framework" refers to the sovereignty invested by the Constitution in Taiwanese, it would not necessarily represent a denial of the "two states" dictum (兩國論), which was premised on the legal theory that the nation has already achieved de facto independence as a result of constitutional amendments passed during the democratization process.
Any framework that relegates Taiwan to the status of an "area" of the Republic of China and includes a Chinese "mainland" would be "unacceptable," he said.
"We have invested a lot of energy into constructing a Taiwanese national consciousness and most Taiwanese have already accepted the fact that China and Taiwan are different countries — do you really want to go back 20 years and say that we are really 'one country with two areas'?" Huang said.
The "one country with two areas" stance goes against common sense, while the 11th amendment which enshrined it into the Constitution was illegitimate because it had been passed by "lifelong" lawmakers who held their seats from 1949 until 1992, he said.
Comments will be moderated. Keep comments relevant to the article. Remarks containing abusive and obscene language, personal attacks of any kind or promotion will be removed and the user banned. Final decision will be at the discretion of the Taipei Times.