Entire Cabinet offers to resign for poor results
KAMIKAZE KMT: The party had said it would allow the Democratic Progressive Party to form a new Cabinet before Tsai Ing-wen is sworn in, but the offer was refused
Premier Mao Chi-kuo (毛治國) yesterday said the Cabinet, under his leadership, was resigning en masse, even though President Ma Ying-jeou (馬英九) said earlier in the day that he would not accept the resignation at this time.
Mao, who was appointed premier in late 2014, following the Chinese Nationalist Party's (KMT) crushing defeat in local government elections, walked out of a special Cabinet meeting yesterday without taking questions.
Mao's resignation came after the KMT lost both the presidential and legislative elections on Saturday, a matter of course in Taiwan when a ruling party loses a major election.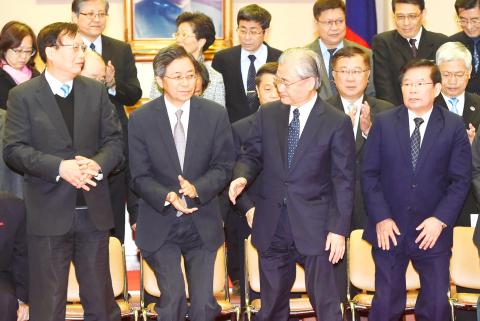 Premier Mao Chi-kuo, front second right, is pictured with the Cabinet yesterday.
Photo: Liao Chen-huei, Taipei Times
Vice Premier Simon Chang (張善政) said that Mao is to take some time off, and Chang is to lead the Cabinet and other ministers until Ma decides whether to accept the Cabinet's resignation.
Before Mao convened the special meeting, Ma went to Mao's residence but did not find him there. Ma left after asking Mao's wife to convey a message asking Mao to stay on.
The KMT offered to allow the Democratic Progressive Party (DPP) to form a Cabinet before its chairperson, president-elect Tsai Ing-wen (蔡英文), is sworn in on May 20, but the proposal appears to have been shot down.
In a post-election news conference late on Saturday, Tsai said that she would leave the issue of letting the party that holds the legislative majority form a Cabinet to constitutional procedure.
Taiwan's Constitution does not allow for a Cabinet and a head of state from different parties.
Ma, whose second presidential term ends on May 20, yesterday said he is asking Tsai to reconsider her decision.
Meeting former deputy US secretary of state William Burns, Ma said it is necessary for the DPP to form a new Cabinet soon.
Meanwhile, Presidential Office spokesman Charles Chen (陳以信) yesterday said that Ma directed Presidential Office Secretary-General Tseng Yung-chuan (曾永權) to form a task force to prepare for the political transition.
The task force is to assign the transfer to a transition team designated by Tsai in accordance with related laws and regulations and based on the two previous power transitions in Taiwan, Chen said.
Tseng convened a meeting yesterday morning to begin preparations for the third transfer of power in Taiwan's democratic history, Chen added.
The task force was formed to coordinate with the incoming administration to ensure a smooth transition of power in the four-month period between the election and the inauguration of the new president on May 20.
Comments will be moderated. Keep comments relevant to the article. Remarks containing abusive and obscene language, personal attacks of any kind or promotion will be removed and the user banned. Final decision will be at the discretion of the Taipei Times.