Tsai reiterates her cross-strait stance: 'maintain stability'
Democratic Progressive Party (DPP) presidential candidate Tsai Ing-wen (蔡英文) yesterday reiterated that if she is elected president she would do her best to maintain stability across the Taiwan Strait through diplomatic communication.
"I have made it clear, and said it during the [televised] campaign platform presentation that, once elected, I would immediately start communicating with our diplomatic allies and with China," Tsai said during a campaign rally in Kaohsiung. "I know that stability across the Taiwan Strait is in our shared interests. I would do my best to maintain that stability."
Tsai made the remarks in response to reporters' queries about comments made by Center for Strategic and International Studies senior vice president Michael Green, who said he would help to facilitate cross-strait talks.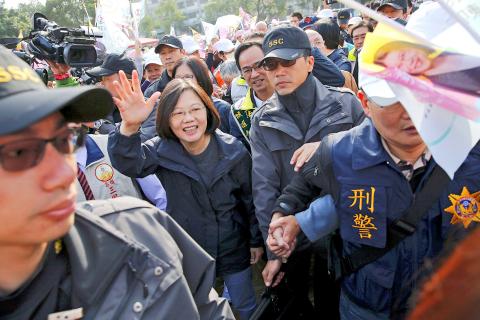 Democratic Progressive Party (DPP) presidential candidate Tsai Ing-wen yesterday greets supporters at the beginning of a campaign rally in Kaohsiung.
Photo: Damir Sagolj, Reuters
Meanwhile, in response to speculation that Tsai might be facing some security threats, the DPP chairperson was also asked if she has stepped up her security efforts, such as wearing a bullet-proof vest. Tsai did not elaborate in detail, but said that she would do as directed by the National Security Bureau.
Tsai was also asked if she was concerned about the number of at-large legislative seats the DPP might win in tomorrow's election, as some traditional DPP supporters are diverting their votes to smaller parties with similar ideologies, such as the New Power Party and the Green Party-Social Democratic Party Alliance.
She admitted that the outcome might not be as good as she would like.
"Support for our at-large ballot is not looking as good as we expected," she said. "I hoped that we could convince voters to give us their maximum support, since we have such a good at-large list. We will do our best in the remaining hours to get more people into the legislature."
At recent rallies, Tsai and other DPP heavyweights have been calling on voters to concentrate their support on the DPP.
Tsai was also asked to comment on recent accusations that she has received illegal political donations totaling NT$450 million (US$13.34 million).
Former Chinese Nationalist Party (KMT) legislator Chiu Yi (邱毅) on Tuesday accused Tsai of receiving donations from former president Chen Shui-bian (陳水扁) via Huang Fang-yen (黃芳彥), the former first family's physician, who has been accused of playing a role in the family's corruption.
Chiu alleged that according to a witness surnamed Lin (林), during the New Taipei City mayoral election in 2010 Tsai received NT$50 million from Huang and that the DPP received NT$200 million from Huang during the 2014 nine-in-one elections.
Another NT$200 million was donated to Tsai this year, he added.
"It is yet another baseless accusation. I will ask my lawyer to take care of it," Tsai said. "There are only two days left before the election; trying to manipulate the election through baseless accusations causes huge damage to democracy, and voters should vote the KMT out if it does not intend to reform."
Comments will be moderated. Keep comments relevant to the article. Remarks containing abusive and obscene language, personal attacks of any kind or promotion will be removed and the user banned. Final decision will be at the discretion of the Taipei Times.