China urged to respect election result
CALM AND DIALOGUE: White House Deputy National Security Adviser Ben Rhodes said that the US would respect the result of tomorrow's polls and Beijing should do the same
A senior US official has called on China to respect the result of Taiwan's presidential and legislative elections.
"We believe in the context of the election that China, like the United States — like any other country observing this — will want to see the election play out and respect the result," White House Deputy National Security Adviser Ben Rhodes said on Wednesday.
He was speaking at a special foreign media briefing on US President Barack Obama's foreign policy priorities.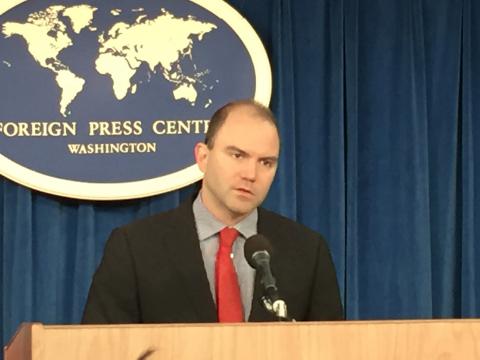 White House Deputy National Security Adviser Ben Rhodes speaks to the media during a press conference in Washington on Wednesday.
Photo: CNA
Rhodes had been asked — with the elections just three days away — what message he wanted to convey to both sides of the Taiwan Strait.
"We have supported good cross-strait relations. We don't think that escalation of tension is in the interest of either side," he said.
While Democratic Progressive Party presidential candidate Tsai Ing-wen (蔡英文) is heavily favored to win the election, Rhodes was careful not to mention either the DPP or the Chinese Nationalist Party (KMT).
"Again, this will take place in the context of our 'one China' policy, our three communiques, but in the aftermath ... I don't want to prejudge a hypothetical circumstance," he said. "What I would say is that — you know, we would want to be supportive of cross-strait dialogue — of there being an avoidance of tensions and there being the ability for these issues to be addressed. You know, again, peacefully, through dialogue, no matter who the winner is."
Rhodes said that the US has a longstanding relationship with both sides of the Taiwan Strait and a longstanding defense relationship "that was manifested in the recent arms sale with Taiwan."
"What we want to see is calm and dialogue, and we will think through what the best ways are to support that effort when we have greater clarity about both the election results and how that's going on," he said.
Earlier, when first asked for comment on the elections, Rhodes said: "We obviously will respect and welcome whatever expression of the Taiwanese people emerges from this election."
"It's up to them to make determinations about their leadership," he said. "We welcome this election. We will respect and work closely with whoever the winner is. Our Taiwan policy — our 'one China' policy — will obviously remain the same, but I think it's a testament to the vibrant democratic culture that you see in Taiwan, that you see in these campaigns and the election that's coming up."
Comments will be moderated. Keep comments relevant to the article. Remarks containing abusive and obscene language, personal attacks of any kind or promotion will be removed and the user banned. Final decision will be at the discretion of the Taipei Times.