Cling to your faith, Chu urges voters
CONCERNED: With a number of KMT members urging voters to cast their party votes for the New Party, Eric Chu urged his supporters to stick with the ruling party
Chinese Nationalist Party (KMT) presidential candidate Eric Chu (朱立倫) yesterday urged his supporters to cling to their faith and cast their party votes for the KMT, amid growing competition from other pan-blue parties.
Chu made the remarks when canvassing for votes in Changhua County yesterday morning, in response to reporters' inquiries on how he planned to respond to growing calls for KMT supporters to give their party vote to the New Party.
"Such a practice is bound to spark huge controversy, which I believe could be avoided if everyone just supports Eric Chu," Chu said.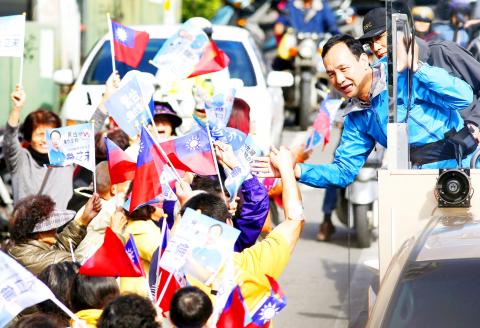 Chinese Nationalist Party (KMT) presidential candidate Eric Chu greets his supporters during a campaign rally in Yuanlin, Changhua County, yesterday.
Photo: Olivia Harris, Reuters
Chu also dismissed allegations made by media personality Clara Chou (周玉蔻) during a political talk show on Sunday that a senior KMT member who had served in the Cabinet was mulling launching a campaign urging pan-blue supporters to abandon Chu and vote for People First Party presidential candidate James Soong (宋楚瑜).
"I have never heard of such a plan. There are all sorts of false rumors during the final stage of an election campaign, but I believe all our supporters will vote for me," Chu said.
There have been grave concerns that the KMT could lose chunks of the party vote to other pan-blue parties in Saturday's legislative election, primarily due to its lackluster approval ratings and the record-high number of 18 political parties on the legislator-at-large ballot.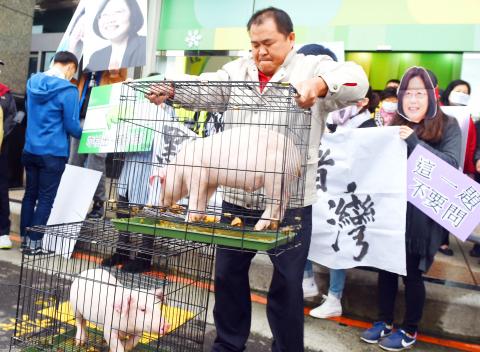 A farmer from Yunlin holds up a caged pig outside the Democratic Progressive Party campaign headquarters in Taipei yesterday to protest against presidential candidate Tsai Ing-wen amid claims by the Chinese Nationalist Party(KMT) that Tsai would allow ractopamine-tainted pork imports from the US if elected.
Photo: Chien Jung-fong, Taipei Times
To make matters worse, a number of KMT members have urged their supporters to cast their party votes for the New Party.
On Saturday, KMT Legislator Alex Tsai (蔡正元) listed on Facebook four reasons why pan-blue supporters should cast their party votes for the New Party, such as allowing another pan-blue party to form a legislative caucus to check the pan-green parties.
Last month, former premier Hau Pei-tsun (郝柏村) of the KMT also called on supporters to cast their party votes for the New Party, calling it the "legitimate KMT."
Legislator-at-large seats are awarded to parties that garner at least 5 percent of the party votes in the election and in proportion to the number of votes each party gains.
At a separate event in Nantou County yesterday, Chu said DPP presidential candidate Tsai Ing-wen's (蔡英文) "failure to elaborate" on her cross-strait policies has unnerved many foreign reporters and academics, as well as the "silent majority" in Taiwan.
"That is why I must urge the public to come out on Saturday and vote in favor of Eric Chu," Chu said.
Comments will be moderated. Keep comments relevant to the article. Remarks containing abusive and obscene language, personal attacks of any kind or promotion will be removed and the user banned. Final decision will be at the discretion of the Taipei Times.