NT dollar hits six-and-a-half year low
The New Taiwan dollar yesterday shed 0.55 percent to end at NT$33.453 against its US counterpart in Taipei trading — a six-and-a-half year low — as concerns over regional safety and an economic slowdown drove investors to seek refuge in the greenback.
The NT dollar weakened for the eighth straight session, but kept pace with the Chinese yuan, although it lagged behind a 0.83 percent drop in South Korea's won and the Australian dollar's 1.39 percent fall, suggesting relative stability, the central bank said in a statement.
The local currency might find short-term support at NT$33.5, but could depreciate further due to Taiwan's disappointing economy, currency traders said.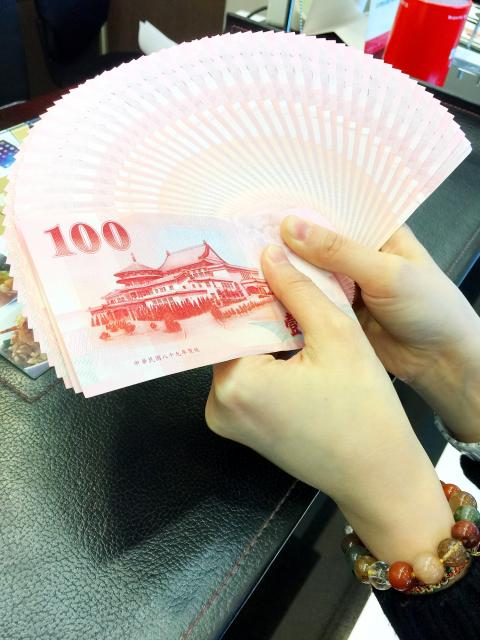 A woman at a bank in Taipei yesterday fans out a stack of NT100 bills.
Photo: Lee Ching-hui, Taipei Times
Combined turnover on the Taipei Foreign Exchange and Cosmos Foreign Exchange markets rose to US$1.74 billion, compared with US$1.26 billion on Tuesday, data from the exchanges showed.
"The claim by North Korea that it has detonated its first hydrogen bomb revived worries over regional peace," a trader at a local bank said by telephone, adding that China's poor economic data also deepened already uneasy sentiment.
Taiwan's heavy economic dependence on China makes it vulnerable to negative twists in China, the trader said.
The yuan sank to a five-year low after the People's Bank of China set the currency's reference rate at an unexpectedly weak level, a sign that policymakers are becoming more tolerant of depreciation as intervention costs rise and economic growth slows.
It cut its daily fixing to the lowest level since April 2011, weaker than Tuesday's onshore closing level.
The currency tumbled 1.1 percent in Hong Kong —- the most since the day after a surprise devaluation in August last year — and lost 0.6 percent in Shanghai as both exchange rates slumped to their weakest levels since at least March 2011. The gap between the two widened to a record.
A weak currency is favorable for a nation's exports, explaining why Singapore, South Korea, Indonesia and Thailand also embarked on depreciation, albeit at varied paces.
The central bank might allow the NT dollar to drop further, as the decline in exports has yet to show signs of stabilization, the trader said.
The Ministry of Finance is due to release the figures for last month's exports tomorrow, and Minister of Finance Chang Sheng-ford (張盛和) has suggested that it could be another month of double-digit downturn from the level the year before.
The NT dollar opened relative high at NT$33.010 yesterday.
The Japanese yen fared better, gaining 0.58 percent to ¥118.74 against the US dollar.
The South Korean won fell 0.8 percent to close at 1,197.2 a dollar, a three-month low.
Additional reporting by Bloomberg
Comments will be moderated. Keep comments relevant to the article. Remarks containing abusive and obscene language, personal attacks of any kind or promotion will be removed and the user banned. Final decision will be at the discretion of the Taipei Times.