Policy to change taxi color, pricing rules
Regulations on color requirements and pricing for taxis might be relaxed if a policy being considered by the Ministry of Transportation and Communications will go into effect in May amid the government's ongoing tussle with Uber, the ministry said.
The ministry said it submitted a draft policy to the Executive Yuan last month after analyzing similar laws in Malaysia and Singapore.
If passed, taxis would be divided into normal and reserved, with normal taxis keeping their original yellow color scheme, the ministry said.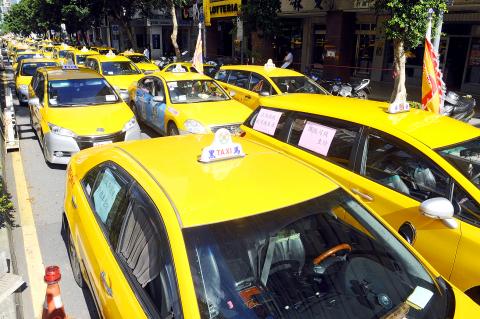 Taxis are parked on a Taipei street in the undated file photo.
Photo: Chen Chih-chu, Taipei Times
Reserved taxi operators would be free to choose the color of their vehicles and illuminated taxi signs would not be required to be mounted on the roof or could be kept inside the car, the ministry said.
If the policy is approved, normal taxis could nearly double starting prices, the ministry said. For example, the starting price for a ride in Taipei would rise from NT$80 to NT$150.
Under the proposal, taxi operators would also be allowed to post different prices during peak and off-peak hours, but this option is to be predicated by whether a taxi can offer sufficient value in terms of car model, the ministry said, adding that vehicles would not necessarily have to be expensive Mercedes-Benzes or BMWs, but they should be relatively high-class models and not older than seven years.
The proposed scheme would also encourage taxi operators to upgrade to electronic payment methods, allowing customers to pay with credit cards before the journey and just get out at their destinations, the ministry said.
Operators with fleets of vehicles would be encouraged to design smartphone apps to allow passengers to know the model and color of the car that will pick them up, the ministry said.
The policy would offer consumers more choices and allow taxis to operate under a new management method, the ministry said, adding that it was still negotiating with taxi unions and consumer groups.
Comments will be moderated. Keep comments relevant to the article. Remarks containing abusive and obscene language, personal attacks of any kind or promotion will be removed and the user banned. Final decision will be at the discretion of the Taipei Times.