Candidates spar on pork, vote-buying
DECISIONMAKING: Chu accused Tsai of striking a deal with the US on pork imports, which she turned around by pointing out that he changed his stance on the issue
The three presidential candidates yesterday crossed words in the second and final televised debate, with Democratic Progressive Party (DPP) candidate Tsai Ing-wen (蔡英文) continuing to question Chinese Nationalist Party (KMT) candidate Eric Chu (朱立倫) over campaign irregularities and the controversial KMT party assets issue, while Chu questioned Tsai's stance on importing US pork products and People First Party (PFP) candidate James Soong (宋楚瑜) asked Tsai and Chu to clarify their stances on cross-strait economic exchanges.
The two-and-a-half-hour debate, broadcast by Sanlih E-Television (SET-TV), began with the candidates delivering their opening statements, followed by questions selected from a list proposed by the public before questioning each other. The debate ended with the candidates each making a final statement.
As soon as candidates could pose questions to each other, Chu asked Tsai why she has changed her stance on importing US pork products, criticizing her for overlooking the interests of pig farmers and public health.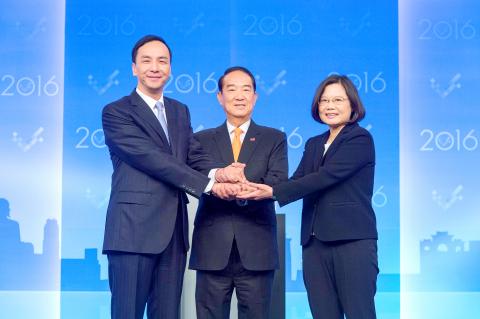 Presidential candidates, from left, Eric Chu of the Chinese Nationalist Party (KMT), James Soong of the People First Party and Tsai Ing-wen of the Democratic Progressive Party join hands before the start of the final televised presidential debate in Taipei yesterday.
Photo provided by the organizers of the debate
"Chairperson Tsai shocked us during the last presidential debate when she said that she has made a U-turn and now agrees on importing [US pork products]. We remember that the DPP has always insisted on zero tolerance [of ractopamine], calling [US meat] 'poisonous pork' and 'poisonous beef,'" Chu said. "Chairperson Tsai, why have you changed your stance? Did you make a secret deal with the Americans during your visit to the US in June [last year]? Did you talk to pig farmers and members of the public before making the change? Did you organize any public hearings on it? Is this your special 'Ing's clique' (英派) opaque decisionmaking process? Is unconditionally accepting another nation's demands your decisionmaking model?"
Tsai defended herself, accusing Chu of trying to apply false labels to her, despite her repeated explanations.
Tsai said the DPP has always insisted on following the international standard on ractopamine. However, before the Codex Alimentarius Commission voted on a standard for ractopamine residue in 2012, "there was no international standard, and thus zero tolerance was our caucus' position," she said.
She rejected Chu's allegation that she made a secret deal during her visit to the US, adding that Taiwan is still far from allowing imports of US pork products, which would not happen until after prolonged and complicated negotiations.
"It is really too early to talk about this issue, and I have made it clear that I will not change my stance, which is to protect the health of our people, and pig farmers' interests will absolutely not be sacrificed," Tsai said.
Tsai then returned the argument, accusing Chu of being the one who has changed stance on the US pork issue.
"During your visit to the US [in November last year], you said that if neighboring countries share the same position on the US pork issue, Taiwan should not be different from others. How would you explain the change in your stance?" Tsai asked.
"Perhaps you really care about public health, but I think that you are more concerned with political manipulation for the sake of your campaign and sticking labels on me," she added.
Meanwhile, Soong said he is "strongly reserved" about importing US pork products — a position he explained at a post-debate news conference as "objection."
"If you [the US] must export pork with ractopamine to Taiwan, would you be amenable to Taiwan turning it into pork jerky that you Americans like to eat so much, and shipping it back to the US?" Soong asked.
Soong said that if the US is unwilling to accept the proposal, it would mean that the pork is problematic, adding that the US should "try it first to prove that it is safe."
When it was her turn to ask questions, Tsai continued to pressure Chu on KMT assets and on election irregularities that resulted in the disqualified elections of four KMT legislators since 2008, as well as KMT Hsinchu City legislative candidate Cheng Cheng-chen (鄭正鈐) last week being accused of vote-buying for his participation in a banquet for 10,000 attendees hosted by the KMT caucus of the Hsinchu City Council.
She asked Chu and Soong what they would do to prevent election irregularities.
Chu said that vote-buying is not allowed in a democracy and that any party would punish those involved in such activities by revoking their party membership. He then accused Tsai of "passing judgement before a trial."
Tsai pressed the issue of the KMT's controversial assets, which many see as evidence that transitional justice has not yet been achieved in Taiwan, saying that no one believes that there will not be scandals when a governing party runs businesses.
Soong voiced his agreement with Tsai, saying the KMT should take care of its party assets after the election.
"Especially the [KMT assets that were originally] properties left over by the Japanese, because those are the property of the nation and should be returned to the people," Tsai said.
However, Chu said that the KMT has returned all illegitimate party assets, adding that he has only heard of stories regarding illegal party assets that involve former president Lee Teng-hui (李登輝), "who is Chairperson Tsai's teacher, as well as Soong's."
The three candidates also touched on the subject of minimum wages, with Chu saying that he has always insisted that raising the minimum wage would boost economic development and accused Tsai of being opposed to an increase.
"If you [Tsai] are opposed [to raising the minimum wage], you are betraying the nation's workers," Chu said.
In response, Tsai said: "I want to reiterate that I am not opposed to raising the minimum wage."
"In fact, I have repeatedly said that we should pass legislation on the minimum wage, which would stipulate that the minimum wage should be adjusted each year according to a set standard," she said.
The proposed legislation would guarantee that the basic needs of workers are fulfilled, Tsai said, adding that the minimum wage should not only be adjusted when an election is approaching.
"As for the idea you [Chu] mentioned that raising salaries might boost economic development, I have never seen a successful case in other nations," Tsai said. "If amending the law to increase the minimum wage could revive the economy, then making economic policies would not be difficult."
Soong voiced his agreement to Tsai's position, saying: "As Tsai mentioned, there is no nation in the world that has boosted economic development only by raising salaries."
"[If that were the case], let us pass legislation setting the minimum wage to NT$500,000 per month. Would that not be great?" he said.
Comments will be moderated. Keep comments relevant to the article. Remarks containing abusive and obscene language, personal attacks of any kind or promotion will be removed and the user banned. Final decision will be at the discretion of the Taipei Times.