Minister leads group at opening rites for Itu Aba facilities
Minister of the Interior Chen Wei-zen (陳威仁) yesterday led a group of officials, including Coast Guard Administration Minister Wang Chung-yi (王崇儀), on a visit to Itu Aba Island (Taiping Island, 太平島) — the largest of the disputed Spratly Islands (Nansha Islands, 南沙群島) — to preside over opening ceremonies for several facilities, as well as the unveiling of a memorial tablet signed by President Ma Ying-jeou (馬英九).
The tablet bore words stating the Republic of China's (ROC) sovereignty over Itu Aba and its surrounding waters.
The facilities include a renovated wharf, an improved runway and a newly constructed lighthouse.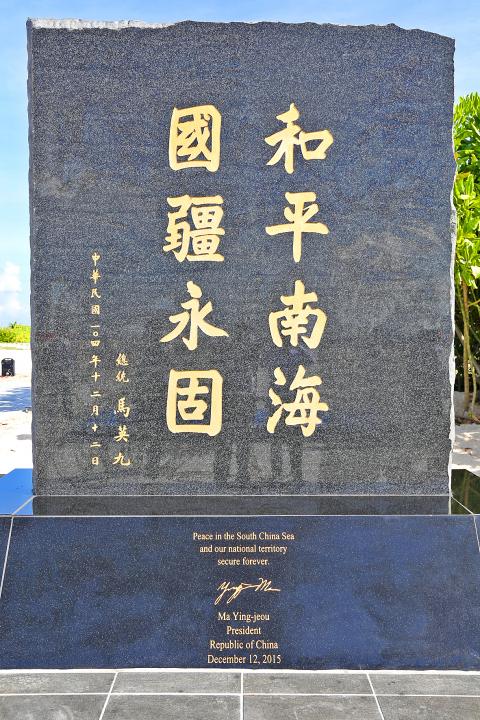 A memorial tablet displays the words "Peace in the South China Sea and our national territory secure forever" on Itu Aba Island yesterday.
Photo provided by the Ministry of the Interior
While the improvement to the wharf and runway would improve accessibility to the island and enhance the nation's ability to launch humanitarian rescue efforts in surrounding areas, the lighthouse would help ships operating within 10 nautical miles (18.5km) of the island, the interior ministry said.
The interior ministry said that the government is planning to transform Itu Aba into an island of peace and ecological preservation, as well as making it a low carbon emission area, and would help realize President Ma Ying-jeou's (馬英九) South China Sea peace initiative.
The ROC will declare to the international community that it is willing to play the role of a "peace creator" and deal with disputes in the South China Sea based on the principles of "setting aside sovereignty issues" and "jointly developing resources," it said.
After media reports last month said that Ma plans to visit Taiping Island, Presidential Office spokesman Charles Chen (陳以信) said the president does not rule out such a trip.
However, he was not among the officials who made the trip yesterday.
Taiwan has controlled Itu Aba Island since ROC forces were garrisoned there in 1956.
Comments will be moderated. Keep comments relevant to the article. Remarks containing abusive and obscene language, personal attacks of any kind or promotion will be removed and the user banned. Final decision will be at the discretion of the Taipei Times.