Film star Ko Chun-hsiung dies aged 70
The curtains fell one final time for Ko Chun-hsiung (柯俊雄), the star of a series of early films aimed at galvanizing patriotic sentiments, who died of cancer at the age of 70 on Sunday.
Born in Kaohsiung on Jan. 15, 1945, Ko's acting career spanned half a century, highlighted first by his leading roles in adaptations of best-selling romantic novels and then by his portrayal of military heroes in the Second Sino-Japanese War.
In 1967, he became the first Taiwanese to win the best actor award at the Asia-Pacific Film Festival for his role in Lonely Seventeen (寂寞的十七歲). He won in the same category at the festival seven years later.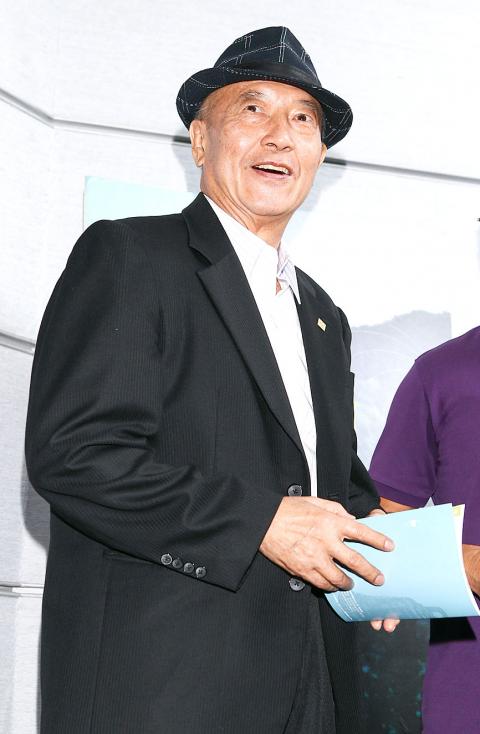 Veteran actor-turned-politician Ko Chun-hsiung attends the opening ceremony of a film festival to commemorate Taiwanese film director Yang Wen-kan in on Sept. 30 last year.
Photo: Wang Wen-lin, Taipei Times
Ko also won Taiwan's Golden Horse Award for best actor in 1979 and 1999 for his roles in A Teacher of Great Soldiers (黃埔軍魂) and Cao Cao (一代梟雄曹操) respectively.
The era in which the films were cast was still strongly influenced by the idea that the Three Principles of the People (三民主義) would triumph and unite China, with Ko starring in films seeking to promote nationalism in the roles of army commanders that were not only patriotic, but also loyal to the Chinese Nationalist Party (KMT).
In 1974, Ko played the role of general Chang Tzu-chung (張自忠) in the film The Everlasting Glory (英烈千秋), which depicted the 1940 Battle of Zaoyang-Yichang during the Second Sino-Japanese War, winning him his second best leading male actor award at the Asia-Pacific Film Festival that year.
Ko went on to win a Golden Horse Award for his portrayal of colonel Hsieh Chin-yuan (謝晉元) in Eight Hundred Heroes (八百壯士) in 1976, as well as receiving the Golden Horse best film award for his role in the 1975 film Victory (梅花).
However, Ko did not receive the Golden Horse Award for best male lead until 1978, when he starred in A Teacher of Great Soldiers.
When the reception to Central Motion Pictures' patriotic movies waned in the late 1980s, Ko sought other roles and found a niche in the antihero role, winning the best actor award for his portrayal of Eastern Han Dynasty warlord Cao Cao (曹操) in the 1999 film of the same name.
Ko developed an interest in politics in the 1990s and, due to having a British-Hong Kong passport, participated in a 1996 People's Republic of China-convened provisional legislative council of the Hong Kong Special Administrative Region.
"The Republic of China should have someone to represent its opinion," Ko said at the event, despite not being elected to the council.
In 2004, Ko was elected to the legislature as a KMT candidate. He ran for a second term in 2008 as a Taiwan Farmers' Party candidate, but lost the election and exited the political scene.
Ko was married twice. In 1970, he tied the knot with actress Chang Mei-yao (張美瑤), with whom he had two daughters. Their marriage ended in 2004 after Ko had an affair with clothing designer Tsai Ching-hua (蔡青樺), whom he met on the set of a film. Ko and Tsai married in 2005 and had a son and a daughter.
In 2012, after learning of the death of his ex-wife, Ko broke down in tears and apologized for the mistakes he had made during their marriage, saying: "It was all my fault."
Ko was diagnosed with terminal lung cancer last year and underwent chemotherapy in May, sources said, adding that his condition remained unstable until he passed away on Sunday night.
Additional reporting by CNA
Comments will be moderated. Keep comments relevant to the article. Remarks containing abusive and obscene language, personal attacks of any kind or promotion will be removed and the user banned. Final decision will be at the discretion of the Taipei Times.