Jennifer Wang's Chinese degree stirs speculation
Chinese Nationalist Party (KMT) vice presidential candidate Jennifer Wang's (王如玄) failure to list a doctoral degree that she obtained from a Chinese university on her campaign Web site has sparked online speculation about the reason for the omission.
On the joint campaign Web site with KMT presidential candidate Eric Chu (朱立倫) launched on Monday, the former Council of Labor Affairs minister lists all of her educational credentials except for a doctorate in law from Renmin University of China (RUC) in Beijing.
Wang has previously been criticized by netizens for "studying law in a country where the rule of law is absent," and the omission has renewed online discussion, with some netizens saying it is unusual for a candidate of the pro-China KMT to leave out such experience.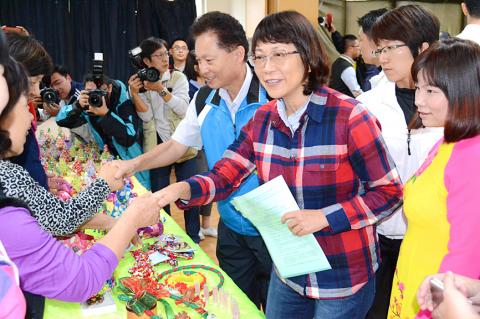 Chinese Nationalist Party (KMT) vice presidential candidate Jennifer Wang, right, presses the flesh at a Christmas charity bazaar in New Taipei City yesterday.
Photo: CNA
She also does not mention the time she served as a member of the Executive Yuan's Women's Rights Committee from 1998 to 2003, which coincided in part with former president Chen Shui-bian's (陳水扁) term in office.
Asked to explain the exclusion of her doctorate, Wang yesterday said she studied law at the RUC not to obtain a degree, but to collect information on certain Chinese laws.
"Beijing's marriage and inheritance laws are closely related to Taiwanese lives, since numerous Taiwanese businessmen have purchased properties or taken a mistress in China. I have also been approached by many Taiwanese wives who needed legal advice in these areas," Wang said on the sidelines of an event promoting an upcoming Christmas charity bazaar in New Taipei City.
As it is not an easy task to gather information on Chinese law, Wang said she figured that applying at a university would be the quickest way to do so.
Wang said she did not apply for the attestation of her doctorate after returning to Taiwan because the degree did not matter much to her profession as a lawyer.
"Also, as a long-term participant in social movements, I have taken up far too many roles. That was why I had to select only some of them to put on the site, or the list might get too long," Wang said.
Chu's campaign spokesman, Lee Cheng-hao (李正皓), said the RUC is part of China's Projects 211 and 985 — education initiatives aimed at creating world-class schools — and is one of the 41 top Chinese universities whose educational credentials were first recognized by the Taiwanese government in 2011.
"However, as Wang obtained her doctorate in 2004 and the government's new policy is not retroactive, she did not file the degree with the Central Election Commission and therefore did not put it on the campaign site," Lee said.
In related news, Democratic Progressive Party (DPP) Legislator Tuan Yi-kang (段宜康) yesterday alleged that Wang and her husband, Judicial Yuan Department of Government Ethics Director Huang Tung-hsun (黃東焄), only moved out of a Ministry of Justice dormitory on Monday because the Executive Yuan's regulations would have compelled them to leave today.
"Huang was transferred on Sept. 2 from the ministry to his current post, which is listed under the Taiwan High Prosecutors' Office. According to regulations, the couple can only stay for another three months [at the dorm after the transfer]," Tuan said.
That means Wang moved out of the dorm not to deliver on her pledge to do so as soon as possible, but because she was compelled to, Tuan said.
Wang said she and her husband had been living in the dorm legally, and that they decided to leave the property because she wanted to subject herself to the highest moral standards.
Comments will be moderated. Keep comments relevant to the article. Remarks containing abusive and obscene language, personal attacks of any kind or promotion will be removed and the user banned. Final decision will be at the discretion of the Taipei Times.