James Soong chooses Hsu Hsin-ying for ticket
People First Party (PFP) presidential candidate James Soong (宋楚瑜) yesterday announced Republican Party chairperson Hsu Hsin-ying (徐欣瑩) will be his running mate in the Jan. 16 election, as part of his campaign promise to form a coalition government.
"As you all can see, there is something different with the tie I wear today," Soong told a news conference in Taipei while pointing to his light purple tie, an uncommon choice for the PFP chairman who usually wears a tie in the party's color of orange.
Soong said that only through a concerted effort can the future leader of Taiwan help restore the public's lost confidence and pride, and create a brighter future for generations to come.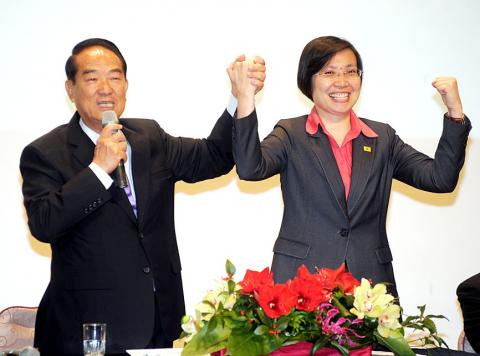 People First Party presidential candidate James Soong, left, yesterday introduces his running mate, Republican Party Chairwoman Hsu Hsin-ying, at a news conference in Taipei.
Photo: CNA
"Cooperation does not mean combination, because there is no need to break oneself into pieces just to reach a compromise," Soong said. "Instead, you should keep being yourself while expanding your mind to accommodate different types of people."
Soong said his selection of Hsu was driven by four main reasons, including his plan to establish a coalition government if elected president in the hopes of putting an end to divisions between political parties and to forge a shared dream.
"The second reason is the need for future leaders to put down their 'maximized self' in the pursuit of public well-being and a joint future for the nation and its people," Soong said.
Soong said the third reason is Hsu's expertise in engineering and technology and his admiration for her ability to obtain a doctoral degree in civil engineering from National Chiao Tung University after turning down a scholarship offered by NASA to take care of her ailing mother.
The last reason was that despite her relatively young age, Hsu won the largest number of votes when running for a seat in the Legislative Yuan in 2012 and has made exceptional achievements during her term, Soong said.
"What I admire about Hsu the most is her personality and character. Corruption has been the primary reason people loathe politics, but Hsu is someone who was willing to give up a rare opportunity for her mother and has demonstrated morality and discipline throughout her political career," Soong said.
"I am as surprised as you are that I am standing here today. In the political environment that I know of, no politicians will have the magnanimity to cooperate with others because they are oftentimes preoccupied with calculations," Hsu said.
Hsu said Soong once told her that his goal is to help Taiwan, not the party, and that only by giving away can one reap the greatest harvest.
"I was moved by Soong's words because society is indeed in need of greater tolerance of other people's ideas and demands," Hsu said.
"What the nation requires is a leader with governing experience, rather than someone who is to experiment," she said, adding that Soong is the most reliable and experienced candidate in the race.
Hsu participated in her first election in 2005 when she ran for a post as Hsinchu County councilor. After being defeated in her bid for a legislative post in the city in 2007, she joined the Chinese Nationalist Party (KMT) and was re-elected as Hsinchu County councilor in 2009.
The KMT nominated Hsu as a legislative candidate for the 2012 elections, which she won after garnering 171,466 votes.
Hsu withdrew from the KMT in January, saying Taiwan needed more than just the choice between "blue and green."
She founded the Republican Party in March, with the stated aims of putting a stop to political wrangling between parties and empowering the nation and its people.
Comments will be moderated. Keep comments relevant to the article. Remarks containing abusive and obscene language, personal attacks of any kind or promotion will be removed and the user banned. Final decision will be at the discretion of the Taipei Times.