Taiwan Affairs Office confirms Ma-Xi meeting
LINE IN THE SAND: The office said the two leaders would address each other as 'mister, and avoid using the words 'country' and 'president' in Singapore
Confirmation of the Ma-Xi meeting from China's Taiwan Affairs Office (TAO) came hours after the Presidential Office announced it just before midnight on Tuesday.
President Ma Ying-jeou (馬英九) and Chinese President Xi Jinping (習近平) would be meeting in their capacity as "leaders of the two sides" of the Taiwan Strait, TAO Minister Zhang Zhijun (張志軍) was quoted as saying in a statement on the office's Web site.
They would address each other as "mister" and attend a banquet after the meeting, the office said.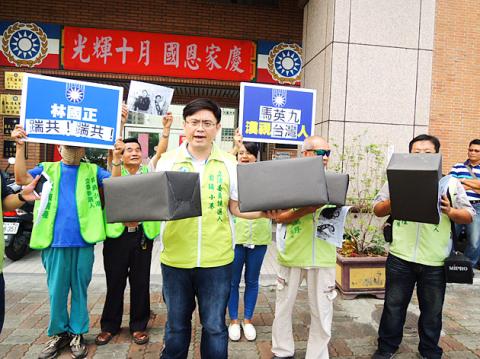 Democratic Progressive Party legislative candidate Lai Jui-lung, center front, yesterday displays a black box as he stages a protest outside the offices of the Chinese Nationalist Party's (KMT) Kaohsiung chapter.
Photo: Ker Yu-hao, Taipei Times
Zhang said the two leaders would "exchange views on promoting the peaceful development of cross-Taiwan Straits relations," Xinhua news agency reported.
"This is a pragmatic arrangement under the situation of the irresolution of cross-strait political differences on the basis of the 'one China principle,'" Zhang said.
The arrangements avoid the words "country" and "president," in line with Beijing's insistence that Taiwan is not a sovereign nation, but part of China.
Meanwhile, the choice of Singapore as venue for the meeting is significant. The city-state has strong relations with both Taiwan and China, and is seen as neutral ground.
Additional reporting by Reuters
Comments will be moderated. Keep comments relevant to the article. Remarks containing abusive and obscene language, personal attacks of any kind or promotion will be removed and the user banned. Final decision will be at the discretion of the Taipei Times.