Supporters flood Taipei for yearly gay pride parade
The annual Taiwan Gay Pride Parade took place in Taipei yesterday afternoon, with the event centering on the theme of "no age limits," with event organizers saying that members of the lesbian, gay, bisexual and transgender (LGBT) community and their supporters were invited to attend the event and explore ways in which society's attitudes toward age and gender prevent people from freely expressing themselves.
People who contravene society's "norms" are often seen as irresponsible and ostracized, the organizers said, adding that teenagers and older people often suffer the worst of this treatment, as society is more rigid in its expectations of these age groups.
Many participants at the parade, now in its 13th year, wore colorful costumes and waved rainbow flags or handmade signs calling for marriage equality.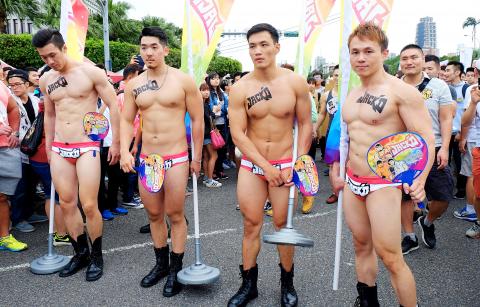 Colorfully attired participants hold fans and banners during the annual gay parade in Taipei yesterday.
Photo: AFP
Organizers said nearly 80,000 people attended the event.
However, the organizer's call for "no age limits" sparked concerns over its interpretaion.
Lee Tsung-hua (李宗華) of the Warm Breeze Caring Association, a Taichung-based group advocating child welfare, said the association has always supported the LGBT community, but it could not disagree more with calls for young people to be liberated of age restrictions placed on their behavior.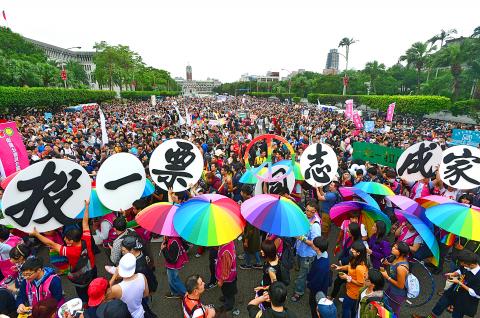 Tens of thousands of people participate in this year's Taiwan Gay Pride Parade in Taipei yesterday.
Photo: Wang Yi-sung, Taipei Times
Yeh Chun-hsing (葉春幸), a legislative candidate of the Faith and Hope League, also opposed the group's call for "no age limit," saying that repeated calls to lower the legal age for sexual consent on the grounds of sexual autonomy would only lead to an increase in social problems such as abortions and sexual assault.
Earlier in the day, Democratic Progressive Party Chairwoman and presidential candidate Tsai Ing-wen (蔡英文) posted a video on Facebook, saying she supported marriage equality, and that all are equal before love.
Later, in response to media queries about the issue of regulations recognizing unions between same-sex couples, Tsai said it is an issue that society must confront, adding that as there are supporters and opponents, she hopes everyone can view the matter rationally.
Chinese Nationalist Party (KMT) spokesperson Lin Yi-hua (林奕華) said KMT presidential candidate Eric Chu (朱立倫) agreed with the broad direction of the LGBT activists' stance on equal opportunities for marriage rights, but added that there should be more discussion over the issue due to the diverse range of opinions held in society.
A consensus must emerge among the public before matters can proceed toward legal amendments, Lin said.
People First Party Chairperson James Soong (宋楚瑜) said via party spokesperson Chen Yi-chieh (陳怡潔) that the PFP favors respect and acceptance on the issue of gay rights.
Additional reporting by Su Fang-ho and Chen Yen-ting
Comments will be moderated. Keep comments relevant to the article. Remarks containing abusive and obscene language, personal attacks of any kind or promotion will be removed and the user banned. Final decision will be at the discretion of the Taipei Times.