China's Tsinghua Unigroup to purchase 25% stake in chip packager Powertech
Memorychip packager and tester Powertech Technology Inc (力成科技) yesterday said it would sell a 25 percent stake to China's Tsinghua Unigroup Ltd (清華紫光) for NT$19.4 billion (US$591 million) to expand its presence in China.
"Tsinghua is actively expanding its partnerships with big global semiconductor firms, most of which are our customers. We hope to safeguard our market position and fend off growing competition through this strategic cooperation with Tsinghua," Powertech chairman and chief executive officer Tsai Duh-kung (蔡篤恭) told a media briefing.
"We also hope to provide our services to Tsinghua's subsidiaries or partners," he said.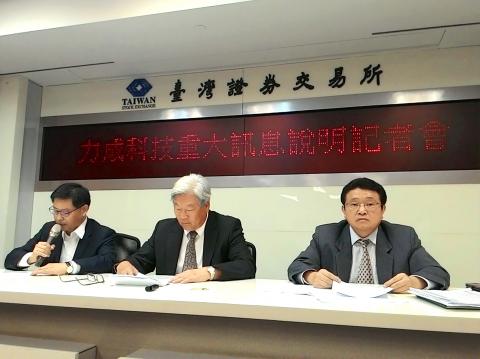 Powertech chairman Tsai Duh-kung, center, and president Hung Jia-yu, right, announce at a press conference in Taipei that China's Tsinghua Unigroup Ltd is to buy a 25 percent stake in the company.
Photo: CNA
The Powertech deal follows Tsinghua's efforts to expand its presence in the global semiconductor industry. It acquired RDA Microelectronics Inc (銳迪科技) two years ago after taking over Chinese handset chipmaker Spreadtrum Communications Inc (展訊).
In July, Tsinghua proposed buying Micron Technology Inc for US$23 billion, but the US memorychip giant rejected the offer.
Earlier this month, the Chinese firm reportedly poached Charles Kau (高啟全), former president of local DRAM chipmaker Nanya Technology Corp (南亞科技), to take charge of its memory business.
The latest deal, once it receives approval from the government, would make Powertech the first Chinese-invested Taiwanese chip packaging and testing service provider.
"Tsinghua aims to acquire key memorychip packaging and testing technologies," market researcher TrendForce Corp (集邦科技) said.
"Tsinghua's aggressive expansion plan will have a great impact on the landscape of the world's DRAM industry," it added.
Under an agreement signed yesterday, Powertech is to sell new shares via a private placement at NT$75 per share to the Chinese firm. The offer represents a 4.17 percent premium to Powertech's closing price of NT$72 yesterday.
Tsinghua will become the biggest shareholder of Powertech after the transaction, which is expected to be completed by June next year.
Powertech plans to use most of the proceeds to build a new factory to provide 3D chip packaging services, Tsai said.
The company plans to start with an initial investment of NT$4 billion next year and is scouting land in Hukou Township (湖口), Hsinchu County, for the plant, he said.
Under the agreement, Tsinghua is to hold one seat on Powertech's nine-seat board, which includes three independent directors.
The Chinese firm will not be involved in management and personnel decisions, and will be considered a pure equity investor, it said.
Powertech plans to hold an extraordinary shareholders' meeting on Jan. 15 next year to discuss the share sale and its strategic partnership with Tsinghua.
The Investment Commission yesterday said it has not received Tsinghua's application for the planned investment in Powertech.
"Once we receive it, we will transfer the application to a task force under the Industrial Development Bureau to see if there is any risk of Powertech's critical technologies being leaked to the Chinese firm," Investment Commission Executive Secretary Emile Chang (張銘斌) said by telephone.
The case will also be referred to the National Security Bureau for further evaluation, he said.
Current regulations cap Chinese companies' investments in Taiwanese chip testing and packaging firms at 50 percent.
"But what is important is that Tsinghua will not have majority control of Powertech," Chang said.
Additional reporting by Lauly Li
Comments will be moderated. Keep comments relevant to the article. Remarks containing abusive and obscene language, personal attacks of any kind or promotion will be removed and the user banned. Final decision will be at the discretion of the Taipei Times.