Taipei to focus on replacing pipes in commercial zones
DOOR TO DOOR: A KMT lawmaker called on the Taipei Water Department to follow Taiwan Water Corp's example and pay each affected household a visit
The Taipei Water Department yesterday promised to make replacing lead pipelines in commercial zones with large numbers of dining establishments a priority, following criticism from the public and politicians.
KMT deputy caucus whip Lin Te-fu (林德福) said he has talked with Premier Mao Chi-kuo (毛治國) about funding to accelerate the replacement of the lead pipes, saying that Mao has promised to speed up the process through use of the Executive Yuan's second reserve fund.
While the Taipei Water Department has made information available online, "there are people, especially older people, who are not Internet-savvy enough to search online to obtain the information they need," KMT Legislator Lee Guei-min (李貴敏) said.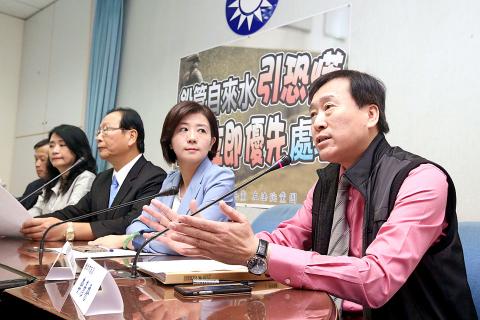 Taipei Water Department Deputy Director Chen Ming-chou, right, says yesterday in Taipei that the lead pipelines in schools and commercial districts will be among the first to be replaced.
Photo: CNA
"I urge the department to be more proactive and follow the example set by Taiwan Water Corp, which plans to visit households that might be affected by the lead pipes," she added.
Ministry of Economic Affairs Water Resources Agency Deputy Director Wang Ruei-de (王瑞德) told a news conference that the corporation, which is responsible for providing water to about 6,500 households affected by the lead pipes outside of Taipei, on Thursday next week would inform the affected households one by one and have water examined within one month.
"We will replace all of the lead pipes in Miaoli and Hualien counties by the end of this year, and all in Yilan County by the end of next year," Wang said.
Aside from the information made available online, the department also plans to conduct door-to-door visits to inform residents affected by the lead pipes, Taipei Water Department Deputy Commissioner Chen Ming-chou (陳明洲) said.
"We are pretty sure that schools have all had their pipes replaced, and commercial areas with numerous restaurants will be our priority during the replacement project," he said.
The national standard for lead content in drinking water is 10 parts per billion (ppb), Chen said, adding: "According to water quality test reports over the past 20 years, all areas have been meeting that standard."
"The water in almost all [households] has been testing negative for lead content. If lead was detected, it was about 1ppb at most," he added.
"We are in the 10th year of a 20-year plan to replace old pipes — regardless of their material — with stainless steel pipes. Until now, the order of replacement has depended on the severity of leaks," Chen said. "We have already renewed approximately 2,000km of pipes over the past 20 years, of which 424km originally employed lead."
Chen said the department has collected 150 water samples from across the city and will make the results of tests available to the public on Monday.
Comments will be moderated. Keep comments relevant to the article. Remarks containing abusive and obscene language, personal attacks of any kind or promotion will be removed and the user banned. Final decision will be at the discretion of the Taipei Times.